A friend request from St. Augustine?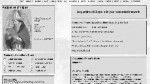 "God has sent you a message on MySpace."
The above might seem like a pretty surprising e-mail to find in your inbox, but for 42-year-old Augustine of Hippo from Algeria, "God" is just one of his 525 friends on MySpace. Among others are "Pope Benedict," "Saint Peter" and "Celine Dion."
Created by the Augustinians of the Province of Saint Thomas, the profile will allow anyone with Internet access to learn more about the teachings of St. Augustine by subscribing to his blog on MySpace.
Starting Aug. 28, the Feast of St. Augustine, the first of about 70 blogs on "Confessions" was posted.
The blogs, spread out over a nine-month period, feature the full text of Augustine's "Confessions," published by New City Press in association with the Augustinian Heritage Institute. The last post is slated for April 24 of next year.
"Augustine's writings are as relevant today as they were in the fifth century," said Michael Dolan, director of communications for the Augustinians of the Province of Saint Thomas, in a press release. "We hope his presence on MySpace will open up Augustine to a new audience … and new friends."
In addition to the blogs, MySpace users can also find an audio clip of "Who Are You?" by The Who, over 100 profile pictures and a video clip highlighting the work of the Augustinians.
Additionally, there is a listing of his favorite TV shows, including "My Name Is Earl." His interests include debunking heretics and hanging out with friends.
"I think that it's a good idea," said sophomore Jaimie Bango, a R.U.I.B.A.L. volunteer. "It's
putting religion into a popular online network which has been associated with so many negative things."
The profile aims to open up Augustinian teaching to a new audience. Additionally, the Augustinians hope the profile and blog will find their way into classrooms. Professors using "Confessions" in their courses are encouraged to use the MySpace profile as supplemental or additional material.
"It looks like it could be a great source to help
with any Augustinian course at Villanova," said sophomore Meredith Kirchheimer, a Eucharistic Minister.
Just like any other MySpace profile, users can leave wall posts and comment on the blogs, opening up Augustinian teachings to a more modern dialogue about their relevance to today's youth.
Users can also give Augustine "kudos" on his blog entries. At press time, the first post had already received four.