Wildcats take on Kansas in Ford Field tomorrow, winner advances to Elite 8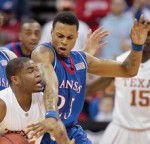 Return to the Sweet 16
Villanova returns to the Sweet 16 for the third time in four years, where it will face Big XII Champion and No. 1 seed Kansas Jayhawks. The Wildcats, who captured an improbable 18-point comeback victory against first-round opponent Clemson and a second-round victory over Siena, move from the upset confines of Tampa to the Motor City of Detroit where this year's Midwest Regional plants itself, literally in the middle of Ford Field.
While the Wildcats aspire to continue their magical run through March, the 'Cats face a formidable Kansas team, which possesses extraordinary depth and athleticism. Led by Head Coach Bill Self and backed by the "Rock Chalk Jayhawk" faithful, Kansas has stormed through the first two rounds of the tournament, capturing victories over Portland State and UNLV by an average margin of 22 points.
Both teams feature outstanding guard play. The Jayhawks are led by a quartet of former McDonald's All-Americans in Mario Chalmers, Sherron Collins, Russell Robinson and Brandon Rush. The 'Cats counter with former McDonald's All-American guards Scottie Reynolds and Corey Stokes, along with heralded freshman Corey Fisher. This should be an entertaining and intriguing matchup in the backcourt; however, the outcome could be decided in the frontcourt, where the Jayhawks possess superior depth. The following is a breakdown of the offensive and defensive matchups:
Rock Chalk Jayhawks
Self's squad continually utilizes a 9- or 10-man rotation that often wares down its opponent. Often acclaimed as one of the deepest and most balanced teams in the nation, Kansas personifies the true meaning of a team, without a single player on the roster averaging over 30 minutes a game. In addition, Kansas possesses close to five double-digit scorers, led by sensational sophomore and former McDonald's All-American Darrell Arthur at 13.1 points per game. Containing Arthur, along with fellow frontcourt mates, Cole Aldrich, Darnell Jackson and Sasha Kaun, will be a daunting task for an undersized Wildcat frontcourt. However, during Big East play, the Wildcats effectively negated Georgetown's 7-foot-2-inch Roy Hibbert and Connecticut's 7-foot-3-inch Hasseem Thabeet. While the Wildcats' interior defense has been sound this season, the Wildcats have yet to face a frontcourt attack that is as deep and athletic as that of Kansas.
However, Kansas's best production often comes from its stellar backcourt, led by juniors Chalmers and Rush. Chalmers, who erupted for 30 points against Texas in the Big XII Championship game, is a quick guard with a deadly outside shot.
On the season, both Chalmers and Rush are connecting above 41 percent from beyond the 3-point line. Rush returned to the Jayhawks after testing the NBA Draft waters before suffering a torn ACL during a workout. Containing Rush, a combo guard with superior strength and deep shooting range, will be critical.
Expect Villanova Head Coach Jay Wright to use a variety of defenders on Rush, with junior Dwayne Anderson holding the primary defensive assignment.
The X-factor for the Jayhawks should be electrifying point guard Collins, who provides Kansas with a great spark off the bench. Collins, a future NBA point guard, is an ultra quick guard with incredible speed and deft dribbling ability. The Wildcats usually utilize a 1-2-1-1 full-court zone press; however, the 'Cats should be weary of Collins' ability to serve as a one-man press break, which could lead to easy baskets.
Supernovas
On the offensive end, Villanova's guards typically run the show. Led by sensational sophomore Reynolds, Villanova's backcourt has accounted for more than 55 percent of the offense during the team's opening-round victories over Clemson and Siena.
Freshman guards Fisher and Stokes have matured over the last two games, which has helped propel the Wildcats into the Sweet 16. During Villanova's game against Clemson, Fisher's ability to break down the Tigers' defense ignited an unbelievable 18-point comeback and allowed the Bronx native to record his first double-digit performance in six games. Fisher, along with Reynolds, should be able to break down the Kansas defense, which should provide Stokes with solid outside looks.
Acclaimed as one of the purest shooters that Wright has ever recruited, Stokes struggled to find his stroke early in the season. However, during the last 10 games, Stokes is shooting close to 45 percent from the field and 36 percent from beyond the arc. Expect the Kansas defense to shade toward Stokes and account for him at all times during the game.
Villanova's frontcourt, led by junior quad-captains Anderson and Dante Cunningham and red-shirt freshman Antonio Peña, has been stellar this postseason. Both Anderson and Cunningham have demonstrated relentless rebounding abilities that allowed Villanova to secure a rebounding margin over a highly touted, physical and strong Clemson frontcourt. Interestingly, Villanova is 16-4 on the season when it out-rebounds its opponents, compared to 6-7 and when the opposition controls the glass.
Verdict
Although Kansas possesses superior depth and is slightly more athletic, expect this matchup to be closer than expected. The Wildcats possess several marquee comeback victories this season; however, falling behind early and big to the Jayhawks would be imprudent, as Kansas has demonstrated during the first two rounds.
In order to capture the upset and advance to the Elite Eight, Reynolds will need to continue his stellar performance in the NCAA tournament. However, he will be closely guarded by Big XII Defensive Player of Year Chalmers, who is also a candidate for NCAA Defensive Player of the Year.
The key for the Wildcats will be Reynolds' supporting cast stepping up; Stokes and Fisher must provide a strong scoring punch at the guard positions for Villanova. Inside, Cunningham and Peña must step up for the 'Cats.
Ultimately, Kansas's depth will prove too much for the Wildcats, whose lack of an experienced and true interior post player will finally catch up to their magical run through March.
Kansas 85, Villanova 80