Perfomance of the Year: 12/06/07 – Malcolm Grant vs. LSU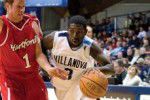 Depending on the perspective you look at it from, the game played at the Wachovia Center on Dec. 6, 2007, was either an enormous LSU collapse or a huge 'Nova win. One thing no one will question is how freshman guard Malcolm Grant took over that game in what seemed to be a Jordan-esque fashion. This was a rare game in college basketball. Talk like this is what led to Grant receiving The Villanovan's Performance of the Year Award.
For those of you who do not remember, the Wildcats were down 11 points at the half, most likely due to 'Cats seven turnovers and poor shooting, going 5-for-20 from the field.
Things got worse before they got better. LSU continued to dominate well into the second half. 'Nova's signature guard play was not really there. Sophomore guard Scottie Reynolds struggled with his shooting, going 1-for-8 on the night, as did freshman guard Corey Fisher. With just under nine minutes left to play, LSU had a 21-point lead.
The 6-foot guard was averaging just over seven points per game before his breakout performance. On this night, 24 seconds is all he needed to do just that.
When Grant entered the game, he was the spark the 'Cats need to come back to life. He completed a 4-point play after being fouled on a 3-pointer and quickly came back to drain another 3 on the next possession. After an LSU turnover and a 'Nova layup, Grant made his way to the line a few more times, including a trip after being fouled on another 3-point attempt. The Wildcats were suddenly clawing away at the Tigers' lead and within three points of tying the game with 1:05 left on the clock.
The only thing that could have made that night perfect for Malcolm would have been to hit the game-winning shot. Head Coach Jay Wright went with the hot hand and put the ball in Grant's hands with time ticking away, only to have the shot go wide right, but it was just the bounce the 'Cats needed.
The ball found its way into the hands of junior forward Dante Cunningham, who was in perfect position for a quick put-back for the lead and the game with just nine ticks left on the game clock to give the Wildcats a one-point lead.
Louisiana State missed a last-second three-point attempt to give the Wildcats the victory.
Wright told the Associated Press, "That was incredible …We showed great heart, and Malcolm was incredible. I can't ever remember winning like that. They had us."