FEAT: Not quite a coach, still a leader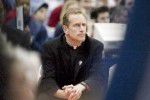 Behind every good team are leaders. For the Villanova men's basketball and football teams, one of those leaders is Rev. Rob Hagan.
Serving as the University's chaplain, Hagan is present on the sidelines and bench for all men's basketball and football games, home or away. In addition to his on-field presence, he is responsible for leading each team's pre- and post-game prayer with the intention of guiding the student athletes.
Officially known as the Villanova University associate athletic director, Hagan has an administrative presence at the University as well. He is responsible for counseling athletes through personal matters such as disciplinary or academic troubles.
Beyond his administrative position, Hagan serves as a spiritualguide for the athletes.
"My role is basically to help the athletes grow spiritually, not necessarily of a Catholic faith," Hagan said. "I can be an ear to someone who just wants to have a conversation, or it could be more formal and dealing with faith."
Hagan took over the chaplain position in 2003 when former Villanova chaplain Rev. Bernard Lazor retired. It has been a tradition at Villanova for many decades to have a team chaplain for football and basketball. When Lazor retired, Hagan was already working in the Athletic Department. He was selected for the position by basketball Head Coach Jay Wright, football Head Coach Andy Talley and Athletic Director Vince Nicastro.
Prior to his work as team chaplain, Hagan graduated from Villanova with an undergraduate degree in 1987. After law school, he became a practicing attorney for seven years in Philadelphia and Delaware County. In 2003, he decided to enter the Augustinian Order and was ordained. That same year, he was asked to become chaplain.
"When we looked around, he was already with the Athletic Department, and he was always around athletes," Talley said. "He was also known to have a tremendous influence on young people."
The day-to-day responsibilities differ between the football and basketball teams. For the football team, Hagan says a prayer in the locker room pre- and post-game, win or lose. For the basketball team, Hagan attends the team dinners four hours before every game and says a prayer.
During all games, Hagan is an observer. He remains on the sideline or bench wearing his collar with a Bible in hand. If needed, he provides encouragement to the team or an individual player. On occasion, a player approaches Hagan in-game for a blessing.
"Father Rob is a tremendous chaplain for us," Talley said. "His pre-game talks on game day are phenomenal. He is very inspirational to our players."
Off the field, Hagan is instrumental in guiding the student athletes. He stresses that they have obligations beyond the athletic fields.
"One of the problems that they often face is that they come from succeeding in high school, and college is a very humbling experience," Hagan said. "I try to emphasize that this is an opportunity to remember that it isn't their strength that they need to rely on. They have other abilities as well."
Hagan also participates in team activities off of the athletic fields. He often attends practices, player meetings, team meals and social events.
"One of my favorite events was on the 2006 NBA Draft night," Hagan said. "The whole team gathered to watch Randy [Foye], Kyle [Lowry] and Allan [Ray]. It was a great time."
All of the other Big East Catholic schools and Boston College have team chaplains as well.
Hagan points out that non-religiously affiliated universities have also added spiritual components to their sidelines. Rick Pitino, men's basketball head coach at the University of Louisville, has had the Rev. Edward Bradley follow him around throughout his career as his personal chaplain. Bradley currently joins Pitino on the bench at Louisville basketball games.
Hagan often meets with other university chaplains.
"We always have a lot of similar experiences," he said.
Contact with student athletes goes beyond their tenure at Villanova. Former basketball stars Lowry and Foye remain in close contact, checking in often with Hagan.
"I am blessed to have this role," Hagan said. "I learn as much from them as they do from me. And it's a great opportunity to build relationships and connect with student athletes."