Reynolds' shot propels 'Nova into Final Four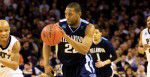 While the famous Boston Garden parquet was no longer gracing the floor, replaced by a generic NCAA floor for the tournament regionals, junior guard Scottie Reynolds made sure to leave his mark on a city that has witnessed its fair share of spectacular finishes.
With five seconds remaining on the clock and the game tied at 76, Reynolds drove the length of the court and hit a contested jumper to defeat No. 1-seeded Pittsburgh 78-76, sending Villanova to its first Final Four since 1985 and earning Reynolds' a spot in NCAA tournament history.
"You have four dribbles and a shot," Reynolds said after the game. "That's five seconds. That's why we practice that every day so we can make an instinct play. We did that. It worked tonight. Only has to work once."
Reynolds was named the East Region's Most Outstanding Player.
Although the shot is all anyone will remember years from now, it almost never happened. Head Coach Jay Wright has preached about junior guard Reggie Redding's skill, toughness and basketball IQ the entire season, but late in the game Saturday, Redding nearly cost the Wildcats everything.
Villanova held a three-point lead with 20 seconds remaining on the clock and, forced to foul, Pittsburgh sent Redding to the free-throw line, a place the Wildcats hadn't missed from all night. With a chance to ice the game by knocking down both, Redding missed the first and hit the second, putting Villanova up by four. After an easy DeJuan Blair layup, pandemonium ensued.
Redding had yet another chance to put the game away. All he had to do was inbound the ball. Instead, he failed to see a wide open Corey Fisher on the right sideline or use Villanova's final timeout and elected to launch a desperation full-court heave to Dante Cunningham that resulted in a turnover, giving Pitt the ball down two with 10 seconds left. Fisher then fouled Levance Fields, and the Panthers found themselves with a shot to send the game into overtime.
"If that would have cost us the game, we would have applauded Reggie for having the guts to make the play" Wright said. "Now, after you deal with all your team stuff, as a sensible basketball person I can say it probably wasn't a great decision. But within our team, and we did talk about that after the game, within our team, he knows we trust him on that and we would have been there to pick him up if that would have cost us."
A 70 percent free-throw shooter, Fields calmly knocked down both and the Wildcat faithful were left in shock. But there were still 5.5 seconds left, enough time for one final play if Redding could just correct his previous mistake.
Refusing to fail a second time, Redding found Cunningham just moments before the referees called a five-second infraction. Cunningham passed to a streaking Reynolds, and the rest is history. Villanova upset the Panthers in arguably the best game of the season. Fields did have the opportunity for a full-court prayer and it nearly missed, but with only .5 seconds left and Fields choosing to dribble once, there was no way the play would have counted.
The game itself was just as exciting as the final two minutes. The contest had 10 ties and 15 lead changes, most of them coming in the second half. It was physical, emotional and at times not pretty. It was just another day in the Big East.
The Panthers, who were looking to shed their recent tournament missteps, gave Villanova everything it could handle. Blair was perfect from the floor, hitting all nine shots for 20 points and adding 10 rebounds.
Senior forward Sam Young was even more impressive. Young had a game-high 28 points and played all but two minutes. Even with a defense that had shut down prolific scorers such as Gerald Henderson and Darren Collison, Villanova had no answers for Blair and Young.
Instead, the team continued to do what it has done since the start of the second half against American. They played balanced basketball and received help from everyone.
Senior forward Shane Clark was on fire early in the first half, making all three of his 3-point attempts when the rest of the Wildcats struggled from deep. Senior forward Dwayne Anderson finished with a team-high 17 points and made clutch play after clutch play, including a steal that resulted in an old-fashioned three-point play to bring Villanova within one. He would follow that up seconds later with a huge three-pointer. Finally, Cunningham had an efficient 14 points on 6-11 shooting while playing much of the later part of the second half with four fouls.
Wright again got important contributions from his bench as well. Sophomore Corey Stokes made several key baskets during a stretch when the lead was flip-flopping, and fellow sophomore Corey Fisher showed why he was named Big East Sixth Man of the Year, knocking down every one of his free-throws in the waning minutes.
Former Villanova head coach Rollie Massimino was on hand to witness the spectacle.
"I'm really happy for Villanova and for the players," Massimino said from his seat in the stands while the team was cutting down the nets. "[Wright's] been on another level for a long time. I knew him when he was a baby. Now, he's a superstar."
The difficult road to the national championship continues. Villanova will make the trip to Detroit to take on preseason favorite North Carolina, a team that has dismantled all of its tournament competition, including All-American Blake Griffin and the No. 2-seeded Oklahoma Sooners.
UNC will prove to be the Wildcats' most formidable opponent to date. The Tar Heels boast one of the most skilled and deepest rosters in the country, lead by All-American center Tyler Hansbrough and the ACC Player of the Year, guard Ty Lawson. Tip off for the semifinal is scheduled for Saturday at 8:47 p.m.