'Cats look to wrap up non-conference schedule with victory over city rival Penn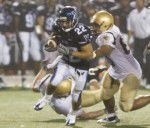 When the football team takes on the University of Pennsylvania at Franklin Field in Philadelphia on Saturday, it will attempt to keep two winning streaks intact.
On one hand, it will look to pick up its third win in as many games this season, having been victorious in its first two contests against Temple and Lehigh. In addition, Villanova will attempt to defend its streak of wins against Penn, in particular. The Wildcats have beaten the Quakers in each of the teams' five meetings since 2004, when they began playing annually at Franklin Field and Villanova Sadium.
The Wildcats look to defend their streaks and the No. 2 ranking they earned this past week. Saturday's contest is the first of the season for Penn, and they certainly have not forgotten last season's thriller, which Villanova won 20-14 in overtime.
"This is the biggest game of the year for them," said Villanova Head Coach Andy Talley, citing the "city pride" that is at stake each year when the two local teams meet.
Despite Villanova being the heavy favorite in this matchup, Talley stressed the importance of taking no opponent lightly.
"We have to approach [Penn] as a team that is incredibly dangerous, and we have to understand that they are capable of beating us," he said.
Aside from adding some vengeful emotion to this season's game for the Quakers, the 2008 contest was also an important turning point for the Wildcats. In that game, which was the third of the season for Villanova, quarterback Chris Whitney was brought in for the first time to replace a struggling Antwon Young as the game was locked in a 14-14 tie. Whitney won that game by scoring a rushing touchdown in overtime, and then proceeded to lead the Wildcats to wins in 10 of their next ten games, before falling to James Madison in the quarterfinals of the FCS tournament.
Whitney has remained true to that winning form this season, throwing four touchdowns, no interceptions and averaging over 270 combined rushing and passing yards per game as he lead his team to its first two wins. His control over the game will be an essential part of Villanova's ability to handle a Penn team when they are unsure what to expect.
"They haven't played, so we don't really know what we are going to see," Talley said. "They changed their offense from midseason on [last year], so we haven't seen that on tape."
With Whitney at the helm on the offensive side of the ball, the Wildcats will need defensive playmakers like senior linebacker and captain Osayi Osunde to help the team make in-game adjustments to contain the Quakers' offense. The Villanova defense, which Osunde leads with 12 tackles so far this season, will likely be most challenged by Penn's quarterback, junior Kieffer Garten. Unlike the quarterbacks Penn has started against Villanova in the past, Garten shares Whitney's tendency to run the football, averaging nearly six yards per carry for the Quakers last season.
"These kinds of quarterbacks frustrate you," Talley said of Garten. "We have to make adjustments right away for a kid who is going to run the ball as opposed for the kid they had last year who was a drop back guy."
Another of Penn's weapons that the Wildcat defense is sure to focus on is junior running back Mike DiMaggio, who led the Quakers in both rushing and all purpose yards last season and was second on the team in scoring. If Villanova is able to contain Garten and DiMaggio, they should find themselves in a very controllable situation on the defensive side of the ball.
While last season's matchup came right down to the wire, Villanova's squad this season already appears to be very different. Since Whitney took over the quarterback position a year ago he has done nothing but improve. His avoidance of turnovers combined with the enormous offensive production he has been able to turn out already this season should help the Wildcats put a good amount of points on the board against the Quakers.
Meanwhile, Villanova has already played two games and immediately found a winning rhythm, while the Penn team has yet to play a down. Emotional as they may be in a game that has city pride at stake, it is unlikely that the Quakers will be anything the Wildcats are unable to handle.