Faces Unseen: Nick Chiaverini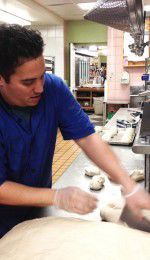 Everybody who meets him remembers him. He's fast-talking and always ready to crack a joke. You hear his voice ring out in 2nd Storey—a thick Philly accent and a cackling laugh.
Nick Chiaverini can often be seen on West Campus on weekends, working the night shift.
He could be found doing a variety of tasks that range from making sandwiches, to packing boxes and even cooking paninis, quesadillas or pizzas.
When you see the same people working on campus week after week, it's easy to forget that they have a life outside of the University.
Employees have stories too, and in this case, it is the story of an energetic guy with a hairnet, a wardrobe consisting of short sleeve button-downs and a father who often gets mistaken in public for Al Pacino (people even ask for autographs).
Chiaverini excels in multi-tasking,  simultaneously answering interview questions and preparing sauce.
Above the clatter of cooking, hearing him is still not an issue.
A native of Delaware County, Chiaverini started working at restaurants at age 16 before landing a job at Bennigan's at age 20.
"I basically did all the different jobs at Bennigan's and got experience doing different roles," Chiaverini says.
When the restaurant shut down in 2008, moving on was difficult. It was quite a shock to suddenly lose all contact with the people whom he had worked alongside for years.
After that, he went out to California for a while and
CHIAVERINI from page 11
worked at restaurants in the area before returning home.
"Working at Villanova was a good opportunity," Chiaverini says. "I'm getting older and the benefits are nice." 
He also enjoys serving Villanova students, noting that it's "awesome to serve student-athletes and then see them become professional players." He has been working with Villanova Dining Services for about three-and-a-half years. When he first arrived, he immediately fit in with the other employees.
"They really take care of you here," notes Chiaverini, who says that a few of the people he has met at Villanova have become some of his best friends. With the downturn of the economy, he was happy just to find a job, especially at a place where he likes his customers and gets to work in the food industry. When he's not serving up sandwiches and jokes, Chiaverini can be found playing and watching soccer, rooting for the Phillies and fishing. 
"I'm a plain guy," laughs Chiaverini, before a fellow worker passes by and tells him to talk about his famous strombolis. He enjoys making the Italian dish out of the ingredients available at 2nd Storey.
"We're trying to figure out some way to make it work where we can offer strombolis on our menu," he beams, and it is clear that working with food is one of his passions.
Serving so many people, it's inevitable that he will remember certain orders. Chiaverini recalls a certain student's sandwich order involving "ham, grapes, olives, apples, tomatoes and lettuce."  
I ask him about his personality—always on the move, talking to everyone, fond of colorful language—and he laughs.
"Growing up, I was pretty shy," he remarks. "But I broke out of my shell. Now I talk to everyone."
Such an approach lets him know (and be known by) many of the students who walk into 2nd Storey.
"You've got to be open-minded to make friends," he notes. "You only live once."
Dealing with so many people over the years, he definitely has his share of stories.
"I've got stories you wouldn't believe," remarks Chiaverini as he flashes a smile. Unfortunately, they wouldn't all be fit to print.