'American Reunion' brings audiences together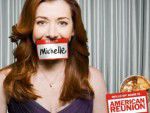 "American Reunion" is a pleasant surprise. It does not really do anything new with the "American Pie" series, but it does recognize the films' strengths and plays into them heavily.
Thirteen years after 1999's "American Pie" was released, "American Reunion" returns as the fourth film in the core series, and the eighth overall installment. Some may feel that by this point, the series has run its course.
After all, usually when a producer attempts to bring a beloved film franchise back after several dormant years, the new film falls short-a la the Indiana Jones series. Its cast is too old, the script is often forced or convoluted or sometimes it just feels like a shameless cash-in.  
And while "American Reunion" is undoubtedly a cash-in, the script is written in a way that brings the characters together without feeling forced. It is the first time the entire original cast is back since 2002's "American Pie 2," and that means viewers can once again fall in love with Jim, Michelle, Oz, Kevin, Finch and even Stifler, in all their original glory.
Again, "American Reunion" knows its age, and in fact, some of the best jokes in the movie poke fun at how old and potentially outdated the original film is today. But it also knows its audience, and looks to take a page out of  the book of "Toy Story 3" by relying on the nostalgia factor to help resonate with a college audience that saw the original films back in middle school and high school.
While this type of comedy is certainly a different breed than Pixar's innocent children's favorite, it carries a similar undeniable charm that is sure to make fans of the original feel right at home.
Back in 1999, "American Pie" reinvented the raunchy-teen-sex-comedy genre by unapologetically tossing around gratuitous amounts of foul language, a fair share of nudity and an uncomfortable amount of references to teenage boys' personal habits. It is sometimes even credited with bringing the term "MILF" to mainstream audiences. "American Reunion" is no different.  
It contains all of these same elements with more than a few nods to the original, in the form of several recycled lines and deja vu-type scenarios. Even the soundtrack will bring viewers back to the '90s, featuring the likes of Lit and the Verve Pipe, but this time paired alongside modern party rockers such as LMFAO.  
The film opens with Jim (Jason Biggs) and Michelle (Alison Hannigan) who are married and living with their first child. After a rather clever introduction filled with all of the shenanigans one would expect from an American Pie film, the couple are off to Jim's father's (Eugene Levy) house to meet up with the old gang for their 13th high school reunion.
As a viewer, it's fun to see where life has taken this group of sex-starved teens since their high school days. Oz (Chris Klein) is a big time sports anchor, Kevin (Thomas Ian Nicholas) is happily married, though not to high school sweetheart Vicky (Tera Reid), Finch (Eddie Kaye Thomas) has been busy living the life of the most interesting man in the world and, of course, Stifler (Seann William Scott) has been too big of a jerk to get anywhere in life.
The film follows the boys through the reunion weekend as they visit some familiar settings, including Jim's bedroom and Stifler's house and the lake.  "American Reunion" is a sequel, through and through.
For those that have not seen the original two movies, Reunion has very little to offer outside of an amusing sex joke or two.
But for the '90s kids who remember "American Pie" as their beloved first R-rated movie, "American Reunion" is sure to bring back fond memories.
It is true that much of the movie is quite predictable, and it may also benefit from the fact that a subpar third series installment and four awful straight-to-DVD spinoffs have greatly lowered viewers' expectations. Still, what this film lacks in originality, it more than makes up for in charm.
By the end of the movie, audiences will rediscover a spot in their hearts for each of the beloved characters-even the sometimes excessively obnoxious Stifler, who wins support in the film's final stretch. All in all, "American Reunion" is a great feel-good movie and a perfect early start to the summer.