Former Wildcat Lowry named NBA All-Star starter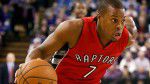 Photo Courtesy of nba.com/raptors
Former Villanova Wildcat Kyle Lowry is not your average point guard.
Compare him to Wizards' guard John Wall, who will be starting next to Lowry at the All- Star game on Feb. 15th, and the differences are astounding. Wall is built like a Ferrari – he's long, lean, and can go from zero to 60 quickly.
Lowry on the other hand is built like a Cadillac – he's shorter, stocky, and seems to shuffle along as he moves around the court.
Yet in a way, Lowry's physique is almost poetic. He's rugged and tenacious, not afraid to use his body to create space and outmuscle his opponents. What Lowry lacks in grace, he makes up for in grit.
Perhaps that's why at age 28, in his ninth NBA season, the Toronto guard has managed to do what no other ex-Nova player has in 53 years: be selected to an NBA All-Star team.
Lowry became the first former Wildcat to be selected for that honor since Villanova great and NBA Hall of Famer Paul Arizin did so in 1962.
"It's quite an achievement," Lowry said during the shoot- around before the Raptors' Jan. 23 game against the Sixers. "It's just an honor to represent my teammates and the country of Canada."
The Philadelphia native has found a home north of the border, where he has led Toronto to its best start in franchise history. The Raptors are on pace for 53 wins, a mark which would stand as the franchise's best ever.
Yet this home away from home was not Lowry's first stop.
After spending two years at Villanova, Lowry entered the NBA Draft. He began with Memphis before moving west to Houston. While he was a rela- tively effective player for both teams, it was not until he was traded to the Raptors in the summer of 2012 that his game really began to take off.
"He was a good player when he came to Toronto," Raptors Head Coach Dwayne Casey said of Lowry. "He just needed an opportunity and he carved out that opportunity, made the best of it, and now he's a first team All- Star."
Creating opportunity has been an integral part of Lowry's story. Initially, NBA teams were scared of Lowry's injury history and maturity levels, which caused Lowry to slide all the way to the 24th pick in the 2006 NBA Draft. That narrative followed Lowry throughout the early stages of his career, as clashes with coaches led to murmurs about his of lack of coachability.
Lowry himself claims that he has been able to block out the peripheral noise that has surround- ed his career, implying that he does not believe in bulletin board material.
"Nah, I don't remember what people say about me," Lowry said with a grin.
By shutting out the chatter, Lowry managed to stay the course, overcome the adversity and blossom into one of the league's best point guards.
"For him to come from where he's come from; fought a lot here at Villanova – fought at Memphis, in Houston scratching and clawing to get to where he is today and not only make the All- Star team but be a starter is a compliment to him," Casey said. "He exemplifies hard work."
Playing as well as Lowry has through the first half of the season is enough to quiet most doubters. As of February 1st, he ranked sixth among all Eastern Conference players with a Player Efficiency Rating of 21.3, and was fifth among all NBA point guards by that same metric.
Through all of Lowry's success at the NBA level, he has not forgotten his Villanova roots, especially with regard to Wildcats Head Coach Jay Wright.
"Jay has been more of a guy who's been there for me, who didn't talk to me about basket- ball," Lowry said. "He talked to me about just being a profes- sional, being a man, and being legit, growing up and making sure you understand that people are always watching and you always want to be honest and a man of your word."
Lowry also mentioned another mentor – recently retired All-Star point guard Chauncey Billups – as a key figure in his continued development.
"I talked to [Chauncey] last night," Lowry said. "He's one of the guys I give a lot of credit to. The progression of growth of my career and his career, it's kind of similar paths. We were the same age [when we made our first All-Star teams] and we're close friends and I look at him as a big brother."
Lowry certainly has grown up, and while he admitted that his personal development has been a major factor in his improvement both on and off the court, he is not the only one who has taken notice.
Landry Fields, who signed as a free agent with the Raptors the same summer as Lowry was traded to the team, also has seen Lowry mature into not only a bet- ter player, but a better leader as well.
"This is my third year playing with him, and I think he was, in the first year, kind of trying to find his way, his role as a captain and a leader on this team," Fields said.
"But he's really taken hold of that role more so last year and really into this year," Fields added. "He's the guy who's perfect for the job; it's the guy we all look to."
In taking a greater leadership role on the team, Lowry has also managed to instill in the Raptors his own brand of basketball: a brand that involves hustling and grinding on every possession.
"He's the engine, the way he goes is the way we go," Casey said. "If he's flying around diving on the floor taking charges, everybody else is doing it."
After being selected to the All- Star game the previous night, Kyle Lowry returned to his home in Philadelphia to take on his hometown team at the Wells Fargo Center. In a twist of fate seemingly right out of a movie script, the game acted as a microcosm for Lowry's entire career.
He got off to a slow start, making only one of his first five shots, bricking a couple of jumpers and failing to make layups through contact. But despite struggling from the floor for the majority of the game, Lowry still allowed his presence to be felt on both ends.
Late in the first quarter, he ripped the ball out of the hands of Sixers forward Robert Covington and raced down the court for an easy layup. It was a play that exemplified the toughness and tenacity that has come to define Lowry's whole career.
While the Raptors team appeared sluggish out of the gate, Lowry refused to lose energy, directing the offense and bark- ing orders while on the court, and cheering on his teammates from the bench. After timeouts, it was Lowry who was first off the bench greeting his teammates.
It was a testament to how much Lowry has matured. There was no sulking when some of his drives were met with contact, no back and forth between him and Casey; just competitive fire that would not be put out.
With five-and-a-half minutes to go and the Raptors trailing the lowly Sixers by nine, Lowry proved why he deserved his spot in the Eastern Conference starting five.
Before Philadelphia knew what hit them, the short and stocky point guard transformed into a complete and utter force of nature.
Lowry ripped off 13 straight points to give the Raptors an 85- 81 lead. He got to the line and drilled three shots from behind the arc in less than three minutes, the most impressive being a contested corner three that he nailed while practically falling out of bounds.
"He put us on his back like he always does," teammate Patrick Patterson said following the game. "He hit some amazing shots that people are just baffled by."
He finished with 21 points, 17 of which came in that final home stretch.Attheend,itwasLowry doing what he does best that saved the game for the Raptors.
With his team leading by three in the game's waning moments, Lowry battled the much bigger Robert Covington for a rebound following an errant 3-pointer from Philly center Henry Sims. The ball ultimately deflected off of Covington, giving the Raptors the ball and the game.
It was the type of hustle play that is more or less invisible in a box score, but is crucial for win- ning games. In other words, it was quintessential Kyle Lowry.
Patterson also acknowledged how great it was for Lowry to play so well in his hometown following his All-Star selection, and said he had a feeling that Lowry's outburst was far from a shock.
"Honestly, I was waiting for that the whole game," Patterson said.
People have been waiting for Lowry to play at this level for nine seasons. Finally, like that January night at the Wells Fargo Center, he's delivering.