Men's lacrosse falls in road matchup at Fairfield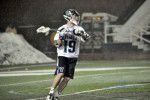 The Wildcats traveled to Fairfield, Conn. for their final non-conference game of the season. Unfortunately for Villanova, it did not go so well. 
Despite a 40-28 shot advantage and winning 11-of-18 faceoffs, Villanova received a lopsided 11-4 loss at the hands of the Stags. Fairfield scored eight unanswered goals en route to the victory.
The Wildcats got off to a quick start, getting back-to-back goals from senior Eric Gartner and freshman Danny Seibel to take a 2-0 lead over Fairfield. It was then that the Stags would respond with their run to take the game. 
Fairfield's Charlie Schnider and Drew Federico supplied two goals near the end of the first quarter to tie the game. A turnover led to an easy shot for Federico to put in the equalizer.
Schnider assisted Jake Knostman to give the Stags the lead with his goal with 11:05 left. From there, they never looked back. 
T.J. Neubeuer added another goal for the Stags to take a 5-2 lead into the half. The balanced effort was capped off by four more goals to make it 8-2 just before the fourth quarter.
The Wildcats had a number of opportunities but could not convert. Junior midfielder Jack Curran finally broke the dry spell later in the game. His goal in the opening minutes of the fourth quarter cut it down to 9-3, but the Wildcats would need more to get back into it. Villanova and Fairfield went on to trade one goal each, before Fairfield added a couple more to put the game out of reach. Villanova's freshman attacker Charlie Horning added one last goal in closing minutes of the game.
The loss drops the  Wildcats to 5-3 overall as they look ahead to begin conference play with a home game against Marquette. Face-off is at 1 p.m. on Saturday, March 28.