Top-seeded Wildcats blast Leopards in tournament opener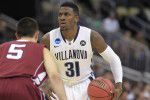 The men's basketball team played Lafayette's two biggest Patriot League rivals earlier this season, Lehigh and Bucknell, and struggled tremendously. On this day though, it was a completely different story. 'Nova come out of the gates firing and blew out the Leopards 93-52 in the second round of the NCAA Tournament. 
"Bittersweet," Villanova Head Coach Jay Wright said about the win. "I worried about [playing this] kind of game against a good friend and great coach," Fran O'Hanlon. 
Lafayette found itself in the tournament after upsetting top-seeded Bucknell on the road in the semifinals and squeaking by American in the Patriot League Final, 65-63. They pride themselves on scoring and coming into the game had the 8th best shooting percentage in the NCAA at nearly 49 percent, but on this day only connected on 38 percent of their shots and 22 percent from three.
With the win, Villanova pushes its record to 33-2 and continues its magical season Saturday night against the winner of North Carolina St. and LSU. Lafayette finishes its season Villanova shot 62.5 percent in the first half and 63.2 percent for the game. They looked like a team on a mission looking to avenge last season's postseason woes. They outshot, outrebounded and outhustled Lafayette and never gave them a real chance to stay in the game. 
"When we made the scouting report on Villanova I circled two [players] that don't shoot threes," Lafayette Head Coach O'Hanlon said. "All the guys can really shoot the ball…they're better and they are used to playing in the bright lights." 
In typical 'Nova fashion, it was a complete team effort. No one player took over. In fact, the 'Cats did not have a scorer in double figures until junior guard Ryan Arcidiacono made a layup to give them a 60-30 lead. 'Nova did end up with six double-figure scorers by the end, paced by junior guard Dylan Ennis' 16 points and five assists. 
"This is just how we play…we're a good offensive team and we share the ball," junior center Daniel Ochefu said. "We've worked on this every day in practice and it was not any different this game." 
They started the game on an 11-2 run and never looked back. They led by 10 to 15 points for most of the first half, before pushing their lead to as many as 23 by halftime. Their largest lead of the game came when Ennis his three to put them 84-39 with nine minutes remaining. 
"We had a lot of respect for them," senior guard Darrun Hilliard said. "They came into our house last year and gave us a great battle…it was great to come out and jump on them from the start." 
Ochefu finished a perfect 5-of-5 from the field with nine rebounds. Arcidiacono tallied 12 points and chipped in six dimes, while sophomore Josh Hart had a consummate game of seven points, eight boards and four assists.  
One big storyline coming into the game was a battle of Bucks County point guards, with Arcidiacono facing off with his old AAU teammate sophomore guard Nick Lindner. Arcidiacono managed to outshine Lindner who was held to just three points, one rebound and only one assist after averaging nearly 19 points a night over his last nine outings. 
"We feared [Linder]," Wright said. "We picked him up full court…we kept fresh bodies on him and just wanted to wear him down. He was a big part of our game plan." 
Lafayette boasted a pair of senior big men, Dan Trist and Sam Hinrichs, who had ran their way through 'Nova defenders and were the only positive aspects of the night for the Leopards. Trist had 18 points on 8-of-16 shooting and added nine rebounds, while Hinrichs scored 13 points and chipped in with three rebounds and four assists. 
"I think we are in a good rhythm right now offensively," Wright said. "I think they all make the right play…and they try to get better every day."