Mark Jackson named new Athletic Director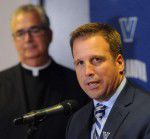 Mark Jackson was introduced last Wednesday as Villanova's new Athletic Director at a press conference in the Pavilion. 
He replaced former AD Vince Nicastro, who moved on from the position to be associate director of the Jeffrey S. Moorad Center for the Study of Sports Law at the Villanova University School of Law. When he took the job at Villanova, Jackson left his position as senior associate director of athletics and chief innovation officer at the University of Southern California. 
Jackson graduated from Colby College in 1995, where he played defensive back for the football team. After matriculating to Trinity College where he received his master's degree in public policy, Jackson spent three seasons as an assistant coach with the New England Patriots from 1998 to 2000. 
He then followed Pete Carroll, who he worked under during his first two seasons in New England, to the University of Southern California, where he served as the director of football administration for three seasons and was assistant athletic director in 2003.
Jackson then left sunny Los Angeles for the Big East, where he became the executive senior associate athletic director at Syracuse in 2005. After one year with the Orange, he became the vice president of athlete development at a startup company called A2 Holdings. This also lasted only one year, however, as he held the role of director of football development for the Oakland Raiders for the next two years before returning to his most recent position at USC.
Now, Jackson, his wife Tricia, and his four children are again leaving a football school for a basketball school in the Big East. 
"Our search centered on finding an individual who believes in the values and missions of our University, understands the changing landscape of college athletics and possesses the skills necessary to sustain and grow Villanova's success—athletically, academically and administratively—now and in the future," said Rev. Father Peter Donohue, O.S.A. in an email to the University. 
Ken Valosky, executive vice president of the University was the chair of the search committee, which took place over two months and was spread across the country. Valosky was aided by other members of the University, both in academics and in athletics. Head football coach Andy Talley and men's and women's basketball coaches Jay Wright and Harry Perretta were also consulted throughout the search.
Jackson takes over the position from Vince Nicastro, who served as Villanova's Athletic Director from 2000 to 2015. During that time, he oversaw some of the University's greatest athletic achievements in its history. The University won three NCAA National Championships, in football in 2009 and in women's cross-country in 2009 and 2010. 
The most notable advances came in the men's basketball program, however. Nicastro hired Wright, who managed to turn the team, save a few years at the beginning and at parts of the middle of his tenure, into a perennial tournament team and one that often finds itself near the top of national rankings. This culminated in 2009 when the Scottie Reynolds-led Wildcats went all the way to the Final Four in Detroit before falling to the eventual national champion University of North Carolina Tar Heels. 
Hiring and keeping Wright was perhaps the greatest move that Nicastro made during his time as Athletic Director. In Wright, the University has a talismanic face who keeps the school in the national conversation every year. Wright's name also comes up in every major head coaching vacancy, from Wright's hometown Philadelphia 76ers to UCLA, yet he has remained committed to the 'Nova Nation.
In addition to the success on the field, track and court, Nicastro managed to guide the University's athletics department through an uncertain time period when conference realignment was tearing through college athletics. Following the football team's national championship in 2009, the University looked into possibly moving up to the FBS subdivision of Division I Football (formerly known as I-A, the highest level of college football) to play in the Big East. This was meant to give Villanova leverage and make it an attractive university for other conferences as football-centric TV contracts ascended to complete control of college athletics.
The school eventually chose not to make the jump to the FCS for a number of reasons, including insufficient facilities and uncertain financial ability. At the time, it seemed like the University may have attached itself to a dying breed—basketball-first major athletic programs. 
The Big East would soon succumb to realignment, as longtime members Pittsburgh, Syracuse, Louisville, West Virginia and others left and invites were extended to the University of Central Florida, University of Memphis and other schools from the former Conference USA to join the Big East. Villanova, along with the other six Catholic schools in the Big East then managed to split from the remaining Big East schools, add Creighton, Xavier and Butler, and create the new Big East, a basketball-first conference that the University is a member of today.
Throughout this, Nicastro managed to keep Villanova athletics in a steady home with a clear purpose and a clear future, unlike former Big East members UCONN and Cincinnati, who are basketball schools with football programs that are now in the American Athletic Conference, which is the vestiges of the old Big East and Conference USA and has a relatively low national profile of major athletic conferences.
Mark Jackson will face a similar set of challenges. Today, the dominant question of college athletics is about the status of student athletes. How much longer will they be denied payment for their efforts to the institutions, despite their countless hours spent working to win games, but also make money, for the schools? The National Labor Review Board recently denied former Northwestern quarterback Kain Colter's attempt to allow him and his teammates to unionize as employees. 
Nonetheless, there are critics everywhere of the current system of college athletics, and the NCAA has had to respond. Some universities are no longer selling player-specific jerseys to ensure they do not profit from players' likeness. This is the next great sea change in the world of collegiate sports, and how Mark Jackson reacts to whatever happens will have a major impact on Villanova's status on the national stage.
Additionally, like Nicastro, one of Jackson's greatest challenges will be to keep Wright a Villanova Wildcat. Wright has professed time and again his passion for Villanova University. When his name was mentioned in response to many head coaching vacancies, he turned them all down to remain on the Main Line, keep the Wildcats in contention for conference and national titles and be the unquestionable public face of the University. He is as good of a head coach for a school's flagship program as any student, fan and athletic director could want. 
The fact is, though, will the day come when that next opportunity is too good to pass up? Villanova is a great basketball program, but it isn't Duke and it isn't UCLA. With legendary Duke basketball coach Mike Krzyzewski nearing the final stages of his career, it's not unreasonable to guess that he will be rumored for the position. That is undoubtedly the best position in college basketball, and who could blame Jay for considering it if that day comes? His name has been connected to UCLA before, and probably will continue to be mentioned whenever a position at one of the "blue bloods" of college basketball opens up. 
By all accounts, Wright is perfectly happy here. It is crucial that this remains the case. If the team continues to have success, funding and support in the way of top-shelf facilities, it should be. Maintaining this relationship is of utmost importance for Jackson.
In both his statement to the University and the press conference at which Jackson was hired, Father Peter focused on Jackson's ability to fundraise in explaining why he was hired. It's no secret that Villanova is looking to upgrade The Pavilion. Additionally, Villanova Stadium is well below par for the football stadium of a national power at the FCS level like Talley's team. One can expect that improvements on these two facilities, in addition to improvements of the facilities for all sports, is part of Jackson's mission as he begins his time here at Villanova. Jackson's ability to fundraise for Villanova and keep the University relevant on a national stage could be his greatest accomplishment as athletic director. 
He's coming from the University of Southern California, a veritable blue blood in football in the same vein that Duke and UCLA are in basketball. He knows what it takes to run a nationally prominent athletic program with major boosters and major facilities. If he can clear these hurdles, perhaps 10 years from now Villanova will continue the ascendance set forth under Nicastro and be right alongside the Dukes and USCs of the world of college athletics.