Football looks to rebound against Fordham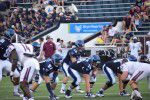 This year's Villanova football team has found themselves in a familiar situation.  Last year, after a tough one-point loss in overtime to FBS-team Syracuse, the Wildcats bounced back with a 50-6 blowout win over Fordham.
Now, coming off of a loss to UConn, Villanova has another opportunity to get back on track with another FCS opener against the Rams.
Despite losing two-time Patriot League Offensive Player of the Year Michael Nebrich and three 1,000-yard receivers to graduation, Fordham has done pretty well for itself thus far.
The Rams opened up the 2015 season with a 37-35 upset win over Army. The Black Knights failed to convert a two-point conversion late in the fourth quarter that could have sent the game into overtime.  Fordham running back Chase Edmonds had a stellar game, rushing for 110 yards and three touchdowns off of 20 carries. He also had six receptions for 140 yards.
Edmonds, a sophomore, is one of Fordham's key returning skill position players. He rushed for 1,838 yards (6.3 ypc) and 23 touchdowns as a true freshman last season. In fact, his play on the field earned him the Jerry Rice Award, an award given to the most outstanding freshman in all of the FCS.  Expect most of the offensive production to run through him.
Linebacker Niko Thorpe, also a sophomore, shined on defense for the Rams. While the game against Army was more of an offensive shootout on both sides, Thorpe tallied a game-high 11 tackles.
The Rams may have all these impressive young guns, but they also have the veteran experience and leadership to complement them.  Stephen Hodge, a fifth-year senior, is happy to be back on the gridiron. Hodge missed all of last season due to an injury he sustained during fall camp.
Before this season, the last time he set foot on the football field, he was named the Patriot League Defensive Player of the Year. He also led the FCS in solo tackles.
As for the secondary, J.Q. Bowers is back in his domain. The senior defensive back will be a starter for the second straight season, although he has gotten a lot of playing time since his sophomore year.
In the win over Army, Bowers had an important second quarter interception that helped Fordham maintain the lead going into halftime.
Junior quarterback Kevin Anderson looked impressive in his starting debut. Anderson spent most of last season on the bench after transferring in from Marshall. With Nebrich gone, all eyes are on him.
Although he did not have any touchdown passes, he threw for a solid 322 yards – completing 15 of 23 pass attempts. He added another 34 yards and a touchdown on the ground.
For the Wildcats to get their first win of the season, they will have to correct a few things that led to their demise in the UConn game.
With a talented running back like Edmonds, the defense cannot afford to miss any tackles. There were a number of plays that should have been minimal gains, but instead became much more due to a missed tackle or two.
Last year, Villanova completely shut him down (or Fordham as a whole for that matter). The Wildcats handed him his worst game of the season, limiting him to nine carries for a loss of five yards.
Most of the offense will flow through Edmonds, who will surely be looking forward to redeeming himself against Villanova.
Fordham has the firepower that will allow them to win most games solely off their offense. This was proven true last year, in which the Rams scored less than 30 points in only two games all season long.
Although only one game has been played so far this season, they are trending in the right direction. The Wildcat defense will be important in paving the way to victory. Should they falter, Villanova's offense will need to be in-sync.
Between the turnovers and miscues on offense, the smooth moving Villanova offense did not seem like themselves out there.
While John Robertson had some nice plays, including a 22-yard scramble to convert third-and-long, he didn't seem to be on the same page as his receivers at times. There were a couple of under and over thrown balls.
It didn't help that running back Gary Underwood was hurt either. The running back kept the defense honest, rushing the ball and receiving a few passes to advance the offense. He even completed a 36-yard pass off of a trick play.
Underwood should be back in action for this week's Fordham game, after leaving the UConn game midway through the second quarter due to a chest injury. Villanova will head to the Bronx in search for its first win. If last year is telling of anything, the Wildcats should be successful in their search.  Kickoff is scheduled for 6 p.m. on Saturday, September 12th.