Robertson out indefinitely with knee injury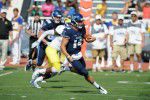 The ball is placed on the six-yard line.  The Wildcats trail 21-14 late in the fourth quarter, but they have been inching closer and closer to the end zone. It is second down. Villanova places the ball in the hands of its star quarterback John Robertson. All eyes are on him. 
The Walter Payton Award winner is known for his offensive prowess, especially when it comes to running with the ball. He has come up with a number of big plays many times before, and it was no surprise his team needed him to make another one now.
Robertson runs to his left, looking for an opening in the Delaware defense. In an attempt to avoid a defender, he tries to shake him off. Just before another defender lunges at him, he is already on his way down.  He stays there. He tries to get up, but can't. 
The stadium is still, with the occasional gust of wind breaking the silence. Trainers rush onto the field and evaluate his knee. 
"We think it's the PCL," said Villanova Head Coach Andy Talley said of Robertson's injury. "We are pretty sure it is not the ACL, at least on first recognition by the doctor." 
Robertson goes out, as Villanova turns its eyes to its backup, redshirt freshman Zach Bednarczyk. 
"I wasn't thinking anything," Bednarczyk said. "I just grabbed my helmet and ran on to the field, and just looked for the signal."
Out came number 14, getting ready to take his first career snap as signal caller for the Blue and White.  His first pass attempt was incomplete, bringing up fourth down. On the ensuing play, he slung a pass to Kevin Gulyas who ran across the field on a drag route. Gulyas turned up field for the touchdown.  The stadium was filled with cheers, but the celebration didn't last long. Villanova's Steve Weyler failed to convert the game-tying extra point. 
It was now up to the defense to get a stop. For most of the game, Delaware's smash mouth offense wore out the Villanova defense with its long, run-heavy drives.  However, the Wildcats were not going to let the Blue Hens bully them this time around.
"It was nice to see [Zach] go in with a lot of confidence and for the whole team to rally around him," said Villanova linebacker Don Cherry. "Zach going in there and making a huge play gave us a lot of confidence."
The Wildcats forced Delaware to punt after back-to-back sacks by Cherry and defensive end Reggie Paris hindered the offensive effort.  With 4:47 left in the game, Bednarczyk was back in the game to orchestrate the offense.  He couldn't have created a better symphony.
"I wasn't really that nervous because everyone was saying 'we got you, we got you,'" he said. "I get reps with these guys every day in practice so it's not like I'm going in there with strangers."
He did not shy away from the big plays.  His first pass was a deep one to Gulyas for 34 yards. A couple of plays later, he connected with receiver Aaron Wells to convert a key third down.  After a two-yard pickup by Gary Underwood, Bednarczyk placed the finishing touches on his masterpiece.  He initially dropped back to pass before opting to run. The defense wasn't prepared for him to take off. He found a hole, cut back, and found daylight.
The Villanova faithful erupted in cheers as Bednarczyk trotted into the end zone. The Wildcats completed the subsequent two-point conversion, making the final score 28-21. 
"We saw what he was capable of in the spring," Gulyas said. "When John [Robertson] went down, there was no doubt in our mind that Zach would be able to step in and lead us to victory."
Delaware's desperate attempt to tie the game was thwarted when defensive back Wes Smith picked off Joe Thomas' Hail Mary pass.  The Wildcats celebrated their win over their rivals, and will keep the trophy at home for one more year.
As for Robertson, his knee was evaluated on Monday, after an MRI. 
"I'm sick that John got hurt," Delaware Head Coach Dave Brock said. "It's terrible. He's an elite player you know, and from everything I know, an elite person."
Talley has already ruled Robertson out for the upcoming game against Penn this Thursday evening.  Robertson wasn't the only one to go down due to injury. Villanova suffered injuries to offensive linemen Brad Seaton and Ethan Greenidge. 
As for Thursday night, Bednarczyk will get the start against Penn.
"We have to get Zach ready to play immediately," said Talley.
Bednarczyk said he feels confident going forward.
"I feel comfortable playing," he said. "Even when I'm not getting physical reps at practice, I am watching John and taking mental reps, so I think I will be ready to play if I have to."
It was a storybook ending for the quarterback who had never taken a snap in game for the Wildcats.  Bednarczyk isn't finished just yet, as he prepares to write his own story Thursday night.