Scott Walker bows out, exacerbates the Trump question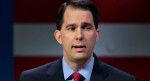 Completing a plunge reminiscent of the 2007 New York Mets' collapse causing them to miss the playoffs, Wisconsin Governor Scott Walker finally bowed out of the race for the GOP presidential nomination on Monday. Back in July, Walker appeared to be on the rise—poised to compete with Donald Trump, Jeb Bush and the rest of the Republican Party's heavyweights. However, Walker's "bland Midwesternness" caught up with him, according to Chris Cillizza of The Washington Post. Meanwhile, Trump's eccentric stunts have prolonged his lead thus far, despite a poor performance at the second Republican debate last week. 
During his announcement that he would be suspending his campaign—sounding defeated, apathetic and somewhat embarrassed—Walker called for other candidates to consider following in his footsteps. Walker explained that the reason for his exit, and the purpose of his plea for others to do the same, was so that "voters can focus on a limited number of candidates who can offer a positive, conservative alternative to the current frontrunner." In other words, Walker believes that it's time for Trump's reign of ridiculousness to end, and he is calling on some of the weaker candidates to help unite the party by stepping aside. The plethora of senators and governors on the campaign trail has split the Republican base. Trump's loyal disciples number enough to boost the real-estate mogul to the top of the polls while the rest of the candidates fight for the scraps, even if they agree on most issues. 
While Walker's reasoning sounds practical and somewhat noble, his motives were not entirely heroic. After being surprisingly successful in fundraising throughout the early stages of his campaign, Walker's "campaign committee was running dry, contemplating layoffs and unable to find enough money to mount a last stand in Iowa," Nicholas Confessore of The New York Times said.  
Walker's initial rise to prevalence was spurred by a speech he gave at an Iowa Freedom Summit event back in January. He was seen as a fresh face and a real conservative that could undo what Republicans saw as failures of President Obama's time in office. 
Somewhere along the way, though, Walker lost his shine, and the regular guy running for president routine was no longer enough to gain the support of primary voters. During last week's debate on CNN, Walker spoke the least of any of the 11 candidates on stage. Walker's campaign "complained about the lack of speaking time but part of running for president is being able to butt your way into conversations and making moments," Cillizza said. "He did neither." 
Carly Fiorina, Marco Rubio and Chris Christie elbowed Walker out of the way during the debate by making articulate, concise and substantial arguments. As a result, Walker became an afterthought by not thrusting himself into the spotlight. In addition to his money problem and his Trump problem, Tim Mak and Betsy Woodruff of The Daily Beast blame Walker's demise on the loss of support from Rush Limbaugh, the staunchly conservative radio host. 
After formerly praising Walker as a true conservative with a tangible plan to repeal the Affordable Care Act, Limbaugh subsequently turned his attention, and his favor, to Trump as the summer wound down. That Limbaugh's endorsement is valuable to Republican candidates and influential to voters is worrisome in itself, but it speaks nonetheless to the overwhelming support necessary to win the nomination. 
Looking at the larger picture, how will Walker's exit affect the rest of the field? Will candidates like Rand Paul and Mike Huckabee heed his advice to move aside? And can Trump even be stopped? 
There seems to be a divide in the Republican Party, as evidenced by Walker's call to action during the suspension of his campaign. He wants the party to unite behind a legitimate conservative candidate with a positive message—basically, anyone but Trump. Mainstream conservatives and moderates can likely identify with Walker's message, and would be prepared to back someone like Bush or Rubio whom they believe can defeat Hillary Clinton in the general election.  
Then there is the sect of the party responsible for Trump's sustained frontrunner status. As Limbaugh put it, "I don't think these people [Trump's critics] have any idea just how angry, frightened, fearful a pretty big majority of the people in this country are." That is the idea Trump is using as a rally cry. His supporters believe that we are a losing country, run by losers, and that The Donald is the one who can bring winning ways back to the United States. 
Early on in the second GOP debate, Walker was already fed up with Trump's bombastic rhetoric, declaring that "Just because he [Trump] says it doesn't make it true." 
However, now that Walker has realized that he will not be the 45th president and has gotten out of the way, his platform for attacking the frontrunner has all but vanished. Instead, it will be up to the candidates that he deems worthy of the nomination to carry the torch leading up to November 2016.