Informal recruitment offers a second chance to get involved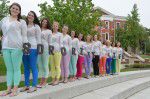 When considering whether or not to join a sorority, I was frozen with indecision. I was excited for all that  Greek Life had to offer, but terrified to take on recruitment as a shy introvert. As winter break approached and the recruitment registration deadline flew toward me, my mind was no closer to being made up. The friends, philanthropy and social events sounded so appealing, but could I really make it through four grueling days of girl-flirting after cutting my winter break short? Ultimately, I couldn't make a decision and therefore didn't rush that winter. 
When I returned from break, intense FOMO overcame me as I saw tons of girls excitedly sporting their new letters. I couldn't help feeling like I'd missed out on an incredible opportunity that was unique to college life. I wished there was a way to join  Greek Life without the stress, anxiety and pressure that my mind associated with formal recruitment. I felt that way for the rest of spring semester and throughout the summer. Then, when the fall of sophomore year came around, I was pleasantly surprised to learn that another option did actually exist—informal recruitment. Through this option select chapters who chose to participate could recruit members in a more relaxed, or as the name suggests, informal-way. 
Informal recruitment was perfect for me and many others because of the unique advantages it provided to potential new members. Instead of cramming rush into four long days, informal recruitment provides a more flexible schedule spread out over a longer period of time. Chapters that participate offer a few events each week for about a month that interested sophomores and juniors can attend as their schedule  allows. Instead of just talking for hours on end, informal recruitment events are fun. They include things like crafting, exercise classes, ice cream socials, lunch dates and game nights. These events create a relaxed setting which means not only a lot less pressure, but also an opportunity for both chapter members and potential new members to really be themselves and get to know each other. This, in turn, helps the potential new members see if that chapter is truly the right place for them.  Informal recruitment is ideal for any woman who is undecided about joining a sorority, for more introverted women or for anyone who didn't participate in formal recruitment but still wants to join. 
Informal recruitment provided a stress free way for me to get involved in something that has been such an amazing part of my Villanova journey. I've gained so much from being involved in Greek Life and I couldn't be any happier with my decision to go Greek. But don't just take it from me. When I asked other Greek women why they loved Greek Life, they couldn't say enough positive things. One of the most frequent responses I received was "true friends who actually become like sisters."  Greek Life offers you an amazing group of like-minded women who love and support you and always want you to succeed. These women go from strangers around campus to your best and truest friends. Because you're all involved in something that's so meaningful to all of you, your bonds go much deeper than an ordinary friend. These shared experiences and sincere friendship let you truly understand each other and connect on many levels.
Beyond the amazing friends, Greek Life offers many opportunities for personal development and growth.  Greek Life provides countless opportunities for leadership in your chapter. Whether it is as president or a committee chair there is a position that's perfect for everyone. In addition, Greek Life's philanthropy component provides women with many opportunities to raise money for charity and do community service projects. Each sorority partners with a foundation or has its own foundation that contributes to a cause that is important to the chapter. Whether it be domestic violence, terminal illnesses or literacy, each sorority works hard for a meaningful cause. This philanthropy work causes sisters to focus more on helping others. This then leads Greek women to focus on accomplishing their own goals. 
After witnessing the huge tasks that their chapter takes on and succeeds in, Greek women are shown that they, too, can accomplish their own goals. The community that their chapter provides helps women boost their self-esteem and confidence. Knowing that they have the support of their sisters behind them helps women to believe in themselves and take more smart risks. Women also walk with their heads high knowing in the back of their mind that they are always part of something and there will always be people there to catch them if they fall.  
Greek Life also provides valuable life skills in that it teaches women how to work with and connect to people of many different backgrounds and interests. Each sister is different yet somehow a chapter can come together as a whole to enjoy each other and be beneficial to community. This is great for learning how to work as a team in a business setting or simply learning how to better communicate with people from all different walks of life. Because women are so proud of their sororities, being involved in Greek Life provides women with an automatic network. Anywhere a woman goes she could find another woman from her sorority. 
This is very helpful for finding connections and securing jobs and internships. And last, but definitely not least, Greek Life offers many social opportunities. From mixers and parties to sisterhood events and just new experiences, a sorority offers tons of fun things to do. So, not only does Greek Life provide women with a great group of friends and fun things to do, it allows them to grow their entire person—socially, philanthropically, and as a leader. If you're interested in going Greek, consider informal recruitment.