VSB Professor brings new music to the market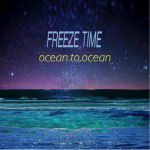 If you are a freshman, you may know Rosario "Bud" Drago as your Business Dynamics professor. If you are a sophomore, you may know him as your Competitive Effectiveness professor. Or you may simply know him by his association with the Marketing Society and the department as a whole. 
Aside from his history as Vice President of Marketing at Sara Lee, Bud Drago possesses an alter ego that trascends the traditional university professor. 
Bud is a songwriter and published recording artist whose music can be found on Spotify, Amazon, and iTunes under the label Freeze Time. 
Ocean.To.Ocean, released on May 25, is Freeze Time's fourth CD. Freeze Time is a family band comprised of sons, Keith and Elliott Drago and Dad, Bud. Freeze Time plays all kinds of music but this fourth CD, perhaps underscoring Keith's recent move to Los Angeles, features much more hard hitting guitars and driving bass than their first three CDs. 
You might call the music cool, paternal pop-rock characterized by sometimes deep, sometimes quirky lyrics. 
Ocean.To.Ocean features two songs by Elliott and Keith – "Insane For Love" and "Jane's Lament." Insane for Love builds on Beach Boys like harmonies but with soaring guitar reminiscent of bands like Badfinger and ELO at their apex. 
Bud's songs range from the hopefully-not-too-preachy "True Believer," which leads off the CD (listen closely – the song may not be saying what you think it's saying) to an introspective comment about life – "What Makes Life Interesting" – a happy song – "Everything is Going Right Today"– these last two feature the superb drumming of Glenn Ferracone (a Grammy nominated producer ) . The usual commentaries about the idiosyncrasies that make us all think twice are all here as well – whether it's "And then Paul McCartney Ate A Hamburger" (keep in mind he's a vegetarian) or "She's Got Something To Say." 
There are also several bonus tracks, including a Chinese version of "You Would Do That For Me" sung by two of Bud's graduate students – Lia Fu – and Nicole Lin – as well as some neat "outro" guitar work by another – Heath Lee… on "Promises Made, Promises Kept" and "You Would Do That For Me" – Chinese version. Let's not forget the fanciful cover art done by renowned Brazilian photographer Marilia Percorari.
The result is a widely varied collection, one that sheds light on each of Freeze Time's members' distinct individual sensibilities and reveals the true strength of Freeze Time. 
This combination of curiosity and creativity makes Ocean.To.Ocean one of Freeze Time's best efforts. Check it out and visit Bud Drago in his office Bartley 3055 to let him know what you think!