Wildcats bounce Bucs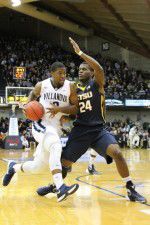 Daniel Ochefu was chairman of the boards last night with 16 rebounds and 12 points as No. 11 Villanova defeated East Tennessee State 86-51 at the Pavilion. This is the senior's third straight double-double of the season and the tenth of his career.
"I thought Daniel was outstanding from the start," Head Coach Jay Wright said.
After a slow first few minutes by the rest of the starters, the now 3-0 Wildcats broke an 11-11 tie with a 24-0 run over a span of 8 minutes in the first half. Adding seven turnovers and three 30-second clock violations into the mix, the Buccaneers ruined any chance they had of keeping the lead.
"We are not coming out focused defensively or rebounding," Wright said. "After they hurt us a couple times, then we get it going. We need to get to the point where we start games that way."
Before coming to the Pavilion, the Bucs were averaging 105 points a game.
"They are a talented team and if you don't play well against them, they can get you," Wright said.
The scoring surge paired with a stifling Wildcat defense elevated them to a 47-22 lead at the half. Wright was happy with the energy his reserves brought off the bench, including Phil Booth, who scored a career-high 16 points, Donte DiVincenzo, Mikal Bridges and Darryl Reynolds.
"Those guys came in and got us a spark," Wright said. "When the starters came back in, they were very good defensively."
Kris Jenkins celebrated his birthday with a career and game-high 17 points in the 25 minutes he was on the court. Jenkins is a new addition to the starting lineup this season, and taking advantage of his new role and increased playing time.
"[I have the] same mindset to come in and do whatever the team needs," Jenkins said. "Play hard and focus on defense and rebounding and everything else will follow."
The addition of Ryan Arcidiacono and Josh Hart's 11 and 10 points, respectively, gave the Wildcats five double-figure scorers on the night. The team went 50.8 percent in its field goal attempts and hit 66.7 percent of its free-throws.
"I am happy with the win of course, "Ochefu said. "But like Coach said, we have to get better every day with defense and rebounds. It is a challenge that we will have all season and we look forward to taking on that challenge."
Villanova hosts its second preliminary round of the NIT Season Tipoff against Akron on Sunday at 4:30 p.m. in the Pavilion.