Brunson impressing team early in collegiate career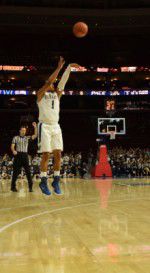 After back-to-back disappointments in the NCAA Tournament in 2014 and 2015, the pressure is mounting for the Wildcats to not only excel in the Big East but also later this season in March. 
The expectations are high for the defending Big East champion Wildcats but even more so for its prized freshman, Jalen Brunson.
When number one steps on to the court, that's exactly what fans will be expecting from him, nothing but the best.
"He's like the second coming of Scottie Reynolds," senior center Daniel Ochefu said.
Scottie Reynolds and Kyle Lowry are a couple of the great players who donned the number one in recent history. Reynolds was an All-American who helped lead Villanova to the Final Four in 2009. He is enjoying a pro career overseas. 
As for Lowry, he is the starting point guard for the Toronto Raptors in the NBA.
Despite the pressure to perform, Brunson remains steadfast through it all. 
"I feel that all I need to do is work hard and play my game, and play Villanova basketball," he said. "As long as I earn the trust of my teammates and earn the respect of everybody, I know I'll be okay."
Brunson, a five-star recruit out of high school, was ranked No. 16 in ESPN's 100 rankings for the class of 2015. Before coming to Villanova, he led his high school, Adlai E. Stevenson, to a state championship in his senior year. Along the way, he was named a McDonald's All-American and was named the MVP of the FIBA U-19 World Championships, where Team USA took home the gold medal.
With each achievement obtained before arriving to the Main Line, the excitement and anticipation has grown. 
Interestingly, it doesn't faze him. He leaves all of that at the doors of the practice court, coming in ready to work and learn each day. 
However, no matter how hard he tries to shut out the outside noise, it always finds its way back to him. The solace of the basketball court isn't the same. NBA scouts have come to Villanova's practices every day, keeping tabs on him and a couple of other players on the Wildcats' roster.
"For a lot of young guys, that could be distracting, but Jalen has a senior's mentality," Ochefu said. "We are all Villanova basketball players – being a McDonald's All-American, any high school accolades you have mean nothing out here."
In practice, his teammates and coaches have pushed him to be great. Whenever they scrimmage or engage on drills, he is tasked with proving himself against senior captain Ryan Arcidiacono. It's set the tone for some friendly competition between the veteran and the new guy.
"I don't want to be shown up by a freshman, and I know he wants to come in and do as best as he can," Arcidiacono said, smiling.
The two compete like fierce rivals on the court, but are actually good friends outside of it. 
The arrival of Brunson raised many questions, most of which will be answered later this season. One question that the basketball team went to address right away, was how he and Arcidiacono would be factored into the starting rotation. 
Arcidiacono has been the starter since his freshman year, while some have argued that Brunson is too good to not start right away. 
Regardless, there is no tension between the two. 
"We're roommates on the road, and he roomed with me in the summer time," Arcidiacono said. "We've gelled ever since he was a recruit here."
This camaraderie was shown last Sunday afternoon, when Villanova took on Pace University in a preseason exhibition game. 
It was the first time the public got to see Brunson compete against an opposing team, instead of an intra-squad Blue-White scrimmage.
One didn't start over the other, but rather they started side-by-side, together. 
"You know, he's unusual," Head Coach Jay Wright said. "What's crazy is, he reminds me of Arch. He's like the left-handed Arch. He's just like him."
Arcidiacono chipped in 11 points in the 80-45 win. Brunson scored a team-high 13 points, showing improvement and gaining confidence as the game went on.
"I know there is a lot of stuff I can work on and stuff I can get better at," Brunson said. "I've just got to be willing to learn and get better." 
In the mean time, he will have time to make some last-second adjustments before the season opener on Friday night against Fairleigh-Dickinson. 
Unlike the couple of thousand people that came to the Wells Fargo Center, he can expect a packed, roaring crowd in the intimate small Pavilion.
"I'm definitely excited for this first game," he said. "I don't think I'm nervous, because I know once I'm on the court, I feel right at home. It's just going to be another basketball game."