Ochefu, Reynolds, Bridges prepared to anchor elite defense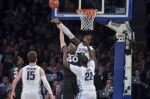 Last year's win against Michigan was unforgettable. Sure, Villanova beat a big-name program ranked in the top 20, propelling the Wildcats to a 5-0 start. The true significance of the Wildcat's win, however, came in the closing moments of the game. 
With their opponent up one, the Wolverines ran a smooth out-of-bounds play which gave Zak Irvin a chance at an open dunk.
A seemingly open dunk. 
Quickly turning around, senior captain JayVaughn Pinkston cleanly stuffed Irvin at the rim, securing the win for the Wildcats. 
It was a statement win for Villanova because Pinkston and the rest of the Wildcats showed they could lock down an opponent defensively when it mattered most. For Michigan, it was the beginning of a downward spiral that culminated in one of the most frustrating seasons for the Wolverines in recent memory.
That's the type of impact defense can have on a team.
While Villanova was known for its offensive production, the 2014-15 Wildcats were a supremely underrated defensive team. They held opponents to only 60.92 points per game, tops in the Big East Conference, on 40.5 percent shooting.
Pinkston will be remembered for his game-saving block, but the production of other senior leaders will not be forgotten. Darrun Hilliard, currently on the Detroit Pistons, averaged a team-high 1.8 steals per game. Don't forget about Dylan Ennis, who pressured opposing point guards starting at half-court, causing turnovers and making an impact in last year's 33 wins.
The Wildcats have holes to fill, but the team will be bringing back its star defensive talent, Daniel Ochefu. After blocking a team-high 1.4 blocks per game last year, Ochefu will be the anchor this team needs to excel defensively. 
"I make sure my guys know they can be really aggressive on the ball," Ochefu said. "Even if they get blown by, I'm always there to help."
A 6-11 defensive menace is a luxury most teams don't have. Ochefu is the perfect cornerstone on which to build an elite defensive team, but as Ochefu knows himself, this team has to keep a consistent focus on improving their defensive game throughout the season.
"Overall, our defense has to get better," Ochefu said. "That's the same answer now as it'll be in March. If we go into the season with the mentality that we have to get better every single day at every little thing, I think we'll be a great team."
The Wildcats have already taken steps to become a lock-down defensive team during practices. The potential for an elite defensive team has been clear this preseason, according to defensive-minded center Darryl Reynolds.
"It's definitely high intensity," Reynolds said of the team's preseason workouts. "We're at a point where we are working very hard on our defense and our conditioning and that we can rebound at a high level for 40 minutes."
After years of waiting his turn, Reynolds will be thrust into the spotlight this season. Known for his shotblocking and rebounding ability, Reynolds will be relied upon to replace some of Pinkston's production. 
In a small sample size (only 5.4 minutes per game), Reynolds blocked 0.5 shots per game. Inflate those statistics over the 15-20 minutes he will likely play this season, and it's clear to see the type of defensive impact Reynolds will make as a rotation player this season. 
According to Reynolds, he will be playing mostly center this season, meaning his role will be to give Ochefu rest and supply the same type of defensive intensity as his senior captain.
"I'm not trying to do exactly what he does, but just trying to match his rebounding presence in the paint," Reynolds said.
Reynolds isn't the only role player who has a defensive instinct the team will call upon this year. Last year, one of 'Nova's best defenders sat on the bench the entire season. Mikal Bridges redshirted last season but is ready to bring his defensive prowess to this year's Wildcats team.
"I worked on my game and got stronger," Bridges said. "I never realized how much you can learn sitting courtside watching the game. I learned a lot about the pace of the game and the physicality." 
While he is lanky and still developing his strength. Bridges will use his athletic ability to his advantage defensively, most notably as a pesky ball-denier much like Hilliard last season.
"My strength is defense, on-ball or off-ball, being able to get deflections with my length and steals and blocking shots," Bridges said. 
Also, much like Villanova did with Hilliard, Bridges said Jay Wright has been using his swingman's wingspan at the top of the Wildcat's 1-2-2 full-court defensive scheme. This defensive set has wreaked havoc on tentative opposing ball-handlers over the last few years.
Another candidate to contribute to a frenetic, full-court press is none other than the Hoops Mania dunk contest winner, Donte Divencenzo. 
"My biggest strength is using my athleticism on the defensive end and attacking the boards," Divencenzo said.
Both Bridges and Divencenzo will have a chance to crack the rotation with aggressive defensive play. Playing alongside Reynolds off the bench or with established defensive veterans like Ryan Arcidiacono, Josh Hart and Ochefu, these two youngsters may be able to surprise Wright.
Phil Booth praised the newfound athleticism of the young Wildcats, saying that it has translated into toughness for the entire roster.
"We're going to be strong defensively," Booth said. "We got a lot of quick and athletics guys, so everyone's toughness is going to help on the defensive end."
Bridges took Booth's claim a step further.
"We're smaller, but I feel like we are more of a defensive team this year," Bridges said in comparison to last year's Wildcats. "We are just scrappy. We are a good offensive team, but we have to play defense for 40 minutes."
Bridges is right about the importance of defense. After all, NBA legend Bill Russell once said, "Defense wins championships."
Defense was a critical factor in the 2015 Big East Champions' successful season. Now, let's see if defense can propel the 2015-16 Wildcats to another Big East Championship and a step closer to an NCAA Championship.