CEO brings Italian luxury to campus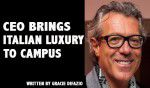 The CEO of Bottega Veneta, Carlo Alberto Beretta, gave a lecture on Tradition, Elegance and Craftsmanship: The Timeless Luxury Model of Bottega Veneta in Bartley Hall last Tuesday at 4:30 p.m. This lecture was an event in the lecture series on Italian Business entitled: The Difference Italy Makes. 
Bottega Veneta is a luxury brand produced and made in the Veneto region of Italy. Their signature woven design acts in place of a logo on their bags. 
"When your own initials are enough" has been the motto of the company since 1966 when Michele Taddei founded it. This resembles their ideals and dedication to individuality and confidence of the customer. They believe that the bag should complement the wearer, not overpower them. 
"A dress should enhance a woman's beauty, not overshadow it," said Tomas Maier, Creative Director of Bottega Veneta. 
This is where its dedication to discretion, quality and craftsmanship comes into play. Each product, handmade in Italy, embodies everything the company believes in and strives to protect. 
In the question and answer part of this lecture, some audience members were concerned with the present financial situation since 2008 and how the company is doing and handling despite it. They were curious if the quality of the the luxury leather products will decrease along with their value. 
Beretta said that Bottega Veneta is actually on the rise, and its worth is at its highest point in the company's history. He said that it will never compromise the product in times of hardship because that would go against everything it stands by and everything it has believed in since its founding, almost 50 years ago. 
The master craftsmen would never be able to take shortcuts, because that would be taking shortcuts with art. They view each of their products as a luxury work of art, and artists would never compromise their own art with lower quality products (cheaper leather) or faster production (with machines). 
The reason that Bottega Veneta is able to keep its luxury prices and make its products by hand with the finest leather available, is that its value and worth remain the same. Other brands produce leather bags, and even counterfeit Bottega Veneta bags, and they will not age as well as the leather goods that Bottega Veneta produces. Over time, their bags and products will grow softer with wear and endure much while still retaining their beauty. Other brands' bags do not age as well because they simply weren't made as well. That is why Bottega Veneta can afford to continue to be a luxury brand. 
"When the Great Recession hit, luxury brands raised prices to show that they weren't giving up on quality," said Luca Cottini, Assistant Professor of Italian Studies and Coordinator of the Italian Program. "Whatever crisis will happen, there will always be someone in the niche that will always be able to buy. Within this crisis, there's a bigger investment on quality because the value of something is more visible when crisis hits." 
This concept of a value still being existent and high for something expensive, can also be applied to something concerning many of the students and parents of Villanova University — the rising tuition prices. "In a moment of crisis where tuition is rising, it's more important to establish the value of what is a liberal arts education," said Cottini. "It's a luxury and costs a lot, but it is clearer to recognize the value of it." 
Cottini felt that having Beretta speak to Villanova students would be inspiring. A liberal arts education will always be one of the most valuable things, but an education is nothing without great people. 
"In a university, we are all tied up to one particular aspect of reality," Cottini said. "But the more we connect the particular subject to other aspects [of reality], it becomes interesting. Being exposed to great people inspires me to do my work better and have a broader horizon to place my work within. I wanted that for the students." 
Following the lecture, Beretta lingered in Bartley to network with faculty and students, answering any further questions or inquiries they had about the company.