Dining Services talks veganism, encourages healthy eating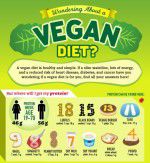 The college experience is overwhelming for just about everyone. From learning to live with new roommates and remembering where you put your Wildcard, to navigating class schedules and failing to figure out the floor plan of Tolentine Hall, nearly every aspect of college life takes some time to get used to. This change in routine is not just limited to academics—learning how to eat in a college dining hall is also an important part of the college transition. While converting to dining hall food can be a shock for everyone, students with restrictive diets, such as vegetarians and vegans, experience an especially difficult acclimation process. 
It can be intimidating to navigate a dining hall with specific dietary guidelines, but Villanova Dining Services offers many different options and has been making a determined effort to accommodate special diets. 
"Villanova Dining Services strives to accommodate special diets and requests," Alicia Farrow, Nutrition Marketing Manager for Dining Services at the University, explains. "Our Associate Director, a registered dietician, and our chef/nutritionist meet with students regularly and work with our culinary team in accommodating students with allergies and other special diets." 
Farrow also describes how vegan and vegetarian options are offered for lunch and dinner in the resident dining halls. Many students also make use of the "Veggie Life" refrigerators in both Dougherty Hall on main campus and Donohue Court on South campus, which contain specific dairy-free, gluten-free and vegan items. Currently, the resident dining halls offer specialty items such as vegan cheesesteaks, tacos and potato salad. Other vegan dishes include orzo-stuffed peppers, ratatouille with chickpeas, vegan General Tso's and the portabella mushroom burger. Of course, all dining halls also offer staples such as organic salad bars and daily selections of fruits and vegetables. 
Additionally, November is National Vegan Month, and the dining halls on campus are using the slogan, "Dare to be Vegan" to call attention to an alternative, and often beneficial, way of eating. "We are not adding any new vegan items to the dining hall menus, we are simply highlighting what we have been doing so that more of our guests take notice," Farrow said. Students can look for items in the dining halls labeled "vegan friendly" and are encouraged to take note of the allergens that certain foods contain. 
Resident dining halls have also been enacting Meatless Mondays. "We have changed the focus of the day and menu to enjoying plant based options," Farrow said. "Meatless Mondays are in place to encourage our guests to go meatless at least one day per week." Initiatives like Meatless Mondays are helpful to all students, whether or not they choose to eat meat regularly. According to the book, "Comfortably Unaware" by Dr. Richard Oppenlander, a book recommended by Farrow, "It takes more than 5,000 gallons of water to produce 1 pound of edible beef, but only 20-60 gallons of water to produce 1 pound of vegetables, fruits, soybeans or grains." Eliminating meat from your diet, even if it is just one day a week, can have positive effects on both your health and on the environment. 
This year, Dougherty Hall is also embracing the "Plant Forward" initiative. The initiative follows menu guidelines released by the Culinary Institute of America and the Harvard School of Medicine. "The Plant Forward concept places more emphasis in making plant foods the center of your plate rather than animal proteins," Farrow said. "By enjoying more vegetables and less animal protein you will be 'going green,' improving your health and doing your part to reduce carbon emissions." 
Reducing carbon emissions and eliminating water waste are reasons many students opt to be vegan, including sophomore Abbey Smith. "I decided to become a vegan because of the benefits that it has for the environment and because of how detrimental the animal agricultural industry is for the planet," Smith said. 
If you are considering adopting a vegan or vegetarian diet, don't let the fear that the University's dining halls won't have enough options stop you from following through. 
"Compared to other schools, Villanova does a great job at making an effort to accommodate vegans," Carolyn Astrup, a sophomore nursing student and vegan, said. With efforts such as Meatless Mondays and the Dare to be Vegan initiative, Villanova Dining Services encourages students to reconsider their eating habits and make a conscious effort to improve their health. Even if you have specific dietary restrictions, the transition from home-cooked meals to eating in dining halls doesn't have to be a stressful one.