Remembering the career of Lower Merion's Kobe Bryant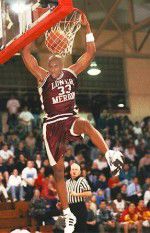 When Kobe Bryant announced his retirement last week, his decision rocked the sports world. 
For many, there has never been an NBA season without the Black Mamba, and they are unsure of how to take the news. For one, Bryant's steep decline over the past two seasons has been evident, and he has had to deal with several season-ending injuries and a complicated overhaul in the Laker organization. 
On the other hand, the 37-year old superstar has been a mainstay in the NBA for nearly 20 years, and most fans are not ready for him to hang up his jersey. Last week, Bryant posted on "The Players Tribune," a sports media site created by Derek Jeter where players can reflect on their careers and experiences, that this current NBA season would be his last. Through Sunday, the Los Angeles Lakers sit at a measly 3-16, and Bryant is having possibly the worst shooting season of his career (shooting at only a 31 percent clip). 
Father Time remains undefeated, and it looks as though it is time for Kobe to hang it up. While the game still has all-world superstars, such as LeBron James, Anthony Davis and Stephen Curry, there will never be another like Kobe Bryant. With a drive and determination matched only by Michael Jordan himself, Bryant will go down as the greatest player of our generation, and the closest thing to His Airness we will ever experience. 
Kobe Bean Bryant was born in Philadelphia but was raised partially in Rieti, Italy, where his father played professional basketball. As a child, Bryant learned to speak fluent Italian and continues to speak the language well today. 
Upon returning to the United States, Bryant played basketball at Lower Merion High School in Ardmore, just minutes from Villanova's campus. Bryant was a highly coveted prospect coming out of high school, and Villanova was actually one of the top schools on his list. However, he decided to make the quantum leap from high school to the pros, a rule that would later become prohibited by the NBA. 
Fresh out of high school, Bryant was drafted 13th overall by the Charlotte Hornets, but was immediately traded to the Los Angeles Lakers. Bryant was quick to adjust to the NBA and established himself as a budding star within his first two seasons. 
After the Lakers hired coach Phil Jackson prior to the 1999-2000 NBA season, Bryant and his teammate Shaquille O'Neal would take the NBA by storm, winning three NBA titles in succession from 2000-2002, a "three-peat" done only by the likes of Bill Russell and Michael Jordan. At that point, Bryant's superstar status was solidified. 
He had established himself as one of the premier perimeter shooters in the game, and got to the paint with both ferocity and finesse. While his offensive prowess was well noted, his defensive skillset was well underrated. His on-ball defense was stellar, and he established himself as the best two-way shooting guard since Jordan. 
After falling to the Detroit Pistons in the 2004 NBA Finals, Bryant's relationship with Shaq fizzled, and Shaq was dealt to the Miami Heat for a package that included forward Lamar Odom. 
While Odom's name has since become synonymous with the Kardashian family and drama, he was one of the most beloved members of the NBA family, and remains one of Bryant's favorite teammates and closest friends. Even after the acquisition of Odom, the next few years marked a tumultuous time for both the Lakers and Bryant. 
In 2003, Bryant was arrested and accused of sexual assault in a small Colorado town, where a 19-year old hotel employee accused him of raping her. Though Bryant was never convicted and the case was eventually settled, the ordeal severely damaged his reputation, and his name would carry a stigma for several years to come. 
As Bryant fell from grace, so did his team. The Lakers dropped into mediocrity in the mid-2000s, and the controversy surrounding their superstar was not helpful to the team's reputation. Nevertheless, Bryant continued to play at a high level, culminating in his legendary 81 point performance against the Toronto Raptors on Jan. 22, 2006. 
Eventually, the Lakers would return to form, with Bryant winning his first NBA MVP award in 2008. After acquiring Pau Gasol in 2008, the Lakers would win championships in both the 2009 and 2010 seasons. 
Over the course of his near 20 seasons in the NBA, Kobe Bryant has become a transcendent sports entity. There is no intelligent conversation about basketball greats that does not involve Bryant. He has appeared in 17 All-Star games, has been selected to 11 All-NBA first teams, and has won five NBA titles. 
As a basketball fan, there is no greater pleasure than watching Kobe on national television, torching his opposition for 30 points and nailing 27-foot threes. I remember sitting at home watching Bryant set a Madison Square Garden record with 61 points against the Knicks (a record Carmelo Anthony would later break), while the usually hostile New York crowd cheered him on. What the crowd understood was that it was witnessing something bigger than basketball. 
They were watching a master at work, someone whose drive and competitiveness was matched by no one. While some saw Bryant's brash, confident nature as egotistical, Bryant never apologized for who he was and just kept getting better. Many liken him to Michael Jordan, and though he may not be on the same level as the greatest player to ever play the game, Bryant is the closest our generation will ever get to MJ. There is something to be said about an athlete who constantly shoots to be better even when he is at the top. For Bryant, he has nothing left to prove, but don't tell him that, or he'll be right back out there in the Staples Center next season.