Talley reflects on building program from bottom-up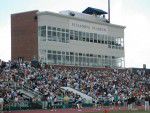 There's no doubt that Andy Talley has accomplished a lot for the Villanova football program during his time here – 221 wins, an unrivaled three Walter Peyton Award recipients, six conference championships and a national title.
A number of NFL players have come out of the program under his watch, including current players Ben Ijalana, safety Ross Ventrone and fullback Darrel Young.
Oh yeah, and some guys named Brian Westbrook and Brian Finneran.
He's made it look easy over the last 31 seasons. Even his retirement plan was smoothly executed.
"We had put a contract together four years ago and we were trying to come up with the succession plan and the time frame with regards to how long I would stay," Talley said. "So I collaborated with the administration on it and came up with a plan after the 2016 season to work it out so that I would stay another year to make sure the transition was smooth."
The football program stayed in-house to promote Talley's long-time assistant Mark Ferrante. There will be a lot of continuity between the two coaches and a lot of the coaching staff will remain similar. 
Recruits have been notified and have been taking the news well.
The transition will be fairly easy for Villanova, the place that has been Talley's home for almost all of his life.
He grew up in nearby Bryn Mawr and went to school in Havertown.
Talley spent time on campus growing up, where he and his friends played as kids. He even snuck in to the stadium to watch the football games, becoming well acquainted with the Wildcats.
"I was disappointed when Villanova dropped football in 1981," Talley said. "I had been away as a coach for 25 years and always had an eye on Villanova."
It was only fitting that Talley returned to Villanova to become the Wildcats' head coach and help with rebooting the program in 1984. 
Aside from his history with the school, he felt that his experiences with coaching at academically centered schools such as Middlebury, St. Lawrence and Brown, made him a worthy candidate and a perfect fit with Villanova's philosophies.
However, getting the program to where it is now was a journey filled with many trials and tribulations. 
Despite the program being back, it was unrecognizable. It certainly wasn't playing Division I-A or FBS football, neither was it a national contender like it is today.
"The downside was that there were no players, there weren't any coaches, and there were no offices," Talley said. "A lot of the infrastructure needed to be built in the first four years."
Talley poached a couple of carpenters, who were next door working on the construction of the new Pavilion, to help build the offices that would house the football program within the stadium.
The Wildcats spent the first three years as independents – two years in Division III before moving up to Division I-AA.
The program finally found a home in the Yankee Conference in 1988, its fourth season. The Wildcats won their first conference championship under Talley a year later, and then once again in 1991.
As Villanova football rose and increased its national presence, Talley was approached by a couple of schools to move and become the head coach of their programs.
Rutgers, New Mexico and other FBS schools each approached Talley in the 90s and expressed interest in bringing him along to coach. The closest he ever considered leaving was when he interviewed with Navy.
"I think the thing that held me here was the fact that I am from here," he said. "I think the fact that I started the program from scratch, it was sort of my baby. I was really afraid to leave it with anyone else."
Eventually, the countless hours paid off for Talley and his staff. They won it all in 2009, 25 years after it was rebooted. 
The win led to another challenging time for the program in which a move to the FBS was being explored. Ultimately, a number of factors with the stadium, costs and fan interest put an end to the discussion.
With the creation of the new Big East, it does not seem like those talks will be reopened in the near future. Talley doesn't think it will ever happen.
"I think Villanova is very content with the FCS," he said. "It is what it is."
However, Talley does not think it is a major loss for the program. In a basketball-centric school, the football team is thriving. It is ranked consistently at a national level in the FCS and has come a long way since Talley first took over.  
He is satisfied with where the program has gone and the way in which it got there. He wouldn't change a thing and has poured everything he has had to offer to the program.
"To coin a phrase, basically I did it my way and felt good about that," Talley said. "I had a plan, and I worked the plan. Yeah, there were some bumps in the road, but we adjusted throughout all those years."
In 1984, there was nothing – no team, no offices, no walls and no doors. Over time, Talley has helped build everything and has left the door open for Ferrante and future generations of players to come.