SkipIt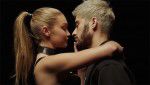 Buzzfeed and entertainment news apps have made keeping up with your Kardashians (and other celebrities), very simple. Whether it's a notification on your lock screen or a procrastination technique, learning about celebrities' lives has become a habit for many students on this campus. We can assume that many people know about what's going on in entertainment news, but what do they think about it? 
Topic: Zayn Malik's new music video for his song "PILLOWTALK" 
Question: Have you seen Zayn Malik's new music video for his song "PILLOWTALK"? If so, how do you feel about it?
Answers: "Is that one of the directions?" – Kristin McGrath (Junior)
"I think it's great, but I haven't watched it yet. The song is sensual and I don't quite know what he's talking about, but Zayn is Zayn and pillows can now talk. . . you can quote me on that" –Meagan McCarthy (Junior)
"I've seen a screenshot of [it]" –Ryan Murphy (Junior)
So there we have it, the new Zayn Malik music video has taken the world by storm and subsequently, changed lives. 
Topic: Liam Hemsworth and Miley Cyrus' rollercoaster of love, defeat and triumph
Question: After years of unrest, breakups and leading us on, rumor has it that Liam Hemsworth and Miley Cyrus are back together. Thoughts? Comments? Reactions?
Answers: "I feel like Liam is dating two different people compared to what Miley was like before when they were dating" –Ryan Murphy (Junior)
"I'm not surprised, honestly. She really took us on a roller coaster with her changing appearance and attitude, but I feel like Liam has always supported her and has always vocalized how much he cares about her. Was just a matter of time until they both realized they're perfect for each other" –Kristin McGrath (Junior)
"Liam is great, Miley is sometimes awful. Maybe, just maybe, they'll balance each other out to be the world's next "just" mediocre couple" –Meagan McCarthy (Junior)
"That speaks for a really wonderful maturity on both their parts and the fact that, okay, we've come back in, now we're friends and we'll build from there" –Nicholas Sparks (Freshman. . . just kidding, he's the author of the book on which the movie, "The Last Song"  was based, where Liam and Miley originally met).
Overall, people's reactions to celebrity news vary, but the undeniable care that we have for our favorite celebrities is palpable. Regardless of the topic, people show a real interest in the lifestyles of the rich and the famous. So when you see a friend around campus, ask about their favorite celebrity– it might just make their day. 
3 more hot topics in celebrity news:
-Kourtney Kardashian smiles every time she talks about Justin Bieber on Ellen.
-Tyra Banks had a baby! What a year this will be! His name is York Banks Asla, so who knows what wonderful things he will do for this world. 
-There is an actual petition for Snoop Dogg to narrate "Planet Earth," so I think we can agree it will be beautiful.