"Ugly Play" leads to Final Four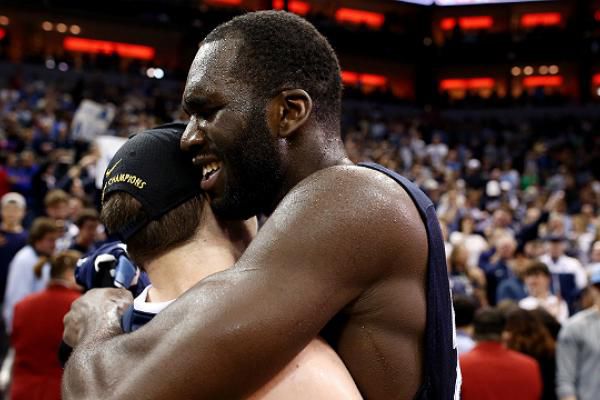 Whether it's football or basketball, you always hear the phrase "Defense wins championships". Villanova was one of the best offensive teams in the NCAA tournament heading into last Saturday's Elite 8 matchup against Kansas, the number 1 overall team in the country.  They were making about fifty percent of their three-pointers and had massive scoring streaks against Miami and Iowa in the NCAA Tournament thus far. Everyone talked about the way Villanova was shooting the ball, and this is the reason why they are playing their best basketball so far this season.
But what doesn't get enough credit for the Wildcats' success is their defense. Heading into the Elite 8, Villanova was forcing an average of 13 turnovers per game in the NCAA Tournament. Their overall game plan: make this an ugly game, and play 40 minutes of Villanova basketball. Their defensive intensity started at the beginning of the game when they were making Perry Ellis miserable on the offensive end. "They did a great job of trying to swarm me at times, somebody was always there" Ellis said after the game. Ellis was averaging 23 ppg in the tournament, including a 27 point performance against Maryland in the Sweet 16.  
"… [F]rom the day we found out that we were playing Kansas, we were locked down knowing [Ellis] was the number one guy to stop on the scouting report," senior captain Daniel Ochefu said after the game. Ochefu, Kris Jenkins, Josh Hart, Mikel Bridges and Darryl Reynolds all took turns of defending the 6'8 All-American from Wichita, Kansas. Jay Wright was "… very aware of trying to limit his touches; trying to keep different bodies on [Ellis]".  He would finish the night with one of his worst games as a Jayhawk with four points and shooting 1/5 from the field.  
It was a complete team effort on trying to guard Ellis, and Villanova showed that by being the more aggressive team throughout the game. The Wildcats forced 16 turnovers against Kansas, including ten in the first half. Villanova was showing their "Philly Toughness" as analyst Kenny Smith alluded to during the post game show on CBS, as they were diving for loose basketballs, taking charges and making steals during crucial moments of the game. "If we buckle down on defense, we make it ugly," Josh Hart said after the game, who averages about seven rebounds a game for a guard and contributed with four against Kansas.  Although Villanova is known as a shooting team, "We like to prove that we can win with our defense and rebounding" Ochefu says, who finished the game with eight rebounds and ten points.  
The unsung hero for the Wildcats was Redshirt Freshman Mikel Bridges, who played more minutes than usual against the Jayhawks. Wright uses him at the top of his 1-2-2 full court press because of his long wingspan. He kept Ellis in check, made key free throws and came up with a few defensive plays that were the deciding factors at the end of the game. With about eight seconds left, Bridges was guarding PG Frank Mason III with a three point Villanova lead, 70-67. Mason hit a three-pointer a few seconds earlier to cut the 'Cats lead to one, 68-67. Bridges knew that Mason wanted to make another three pointer to send the game into overtime. As he stepped up to guard Mason, Bridges forced him to pick up his dribble and swarmed him with his long arms. While Bridges was playing superb defense, senior captain Ryan Arcidiacano was able to tip the ball out of Mason's hands, and Bridges dove on the floor for the loose ball to secure possession for Villanova.  
"We were up three, and we were gonna foul at a certain time, I went for a steal just, even if we had to foul, just to get the ball back. Big time dive by Mikel Bridges" Says the All American from Langhorne, Pennsylvania. Coach Wright even said that Bridges was playing "… so big himself and getting rebounds" that he earned more playing time in order to secure a trip to Houston for the Final Four.  
Say what you want about Villanova, that they are more known for their offense and making three-pointers anywhere from behind the arc (including more than 30 feet from the basket).  When people look back on this Final Four run in 2016, they key for it was not their three-point shooting, but from the "backbone of our program… (says Arcidiacano)": their Defense.