Final Four brings together incredible family story for Jenkins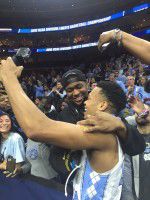 A basketball team is a family. The players, coaches, trainers and many others who impact the team, all make up that family. Being a part of that family, especially one like Villanova's, is a special experience.
    For Villanova junior forward Kris Jenkins, family is more than just basketball. Family means opportunity. It means sacrifice. It means getting a chance to succeed when there might not have been one.
    Wildcat fans know that Jenkins has been one of Villanova's primary offensive sparkplugs over the final month of the season. Jenkins' offensive game has blossomed this season from strictly three-pointers into being able to score at will from just about anywhere on the floor. During the tournament, Jenkins is averaging just over 15 points per game and shooting 57 per cent from the field. In addition, Jenkins has been shooting 47 per cent from three-point land in March.
    However, this may not be the most important storyline regarding Jenkins in the tournament. One of the teams set to join the Wildcats at the Final Four this weekend in Houston, Texas is the No. 1 seed North Carolina Tar Heels. While the 'Cats primary focus right now is on the Oklahoma Sooners this Saturday night, Villanova would face UNC in the national championship if both teams were to advance.
    Sure, a Villanova-North Carolina matchup would elicit many memories of past tournament games between these two schools. But a Wildcat-Tar Heel showdown in the national title game would be very personal for Jenkins. North Carolina junior guard Nate Britt is Kris Jenkins' legal brother. While Jenkins is a starter at Villanova, Britt comes off the bench at North Carolina.
    Jenkins and Britt's story began when they were both 10 years old playing basketball against each other at an AAU tournament. The two families became friendly after the occasion.
    As Jenkins' family began traveling more frequently up to Johns Hopkins University in Baltimore for a family matter, Kris' mother asked the Britts if Jenkins could stay and work out with the family while in town. Jenkins, who is originally from South Carolina, began spending more time with the Britt family in what residents of the D.C. Metro area commonly refer to as the "DMV".
    Realizing that Kris' best academic and athletic opportunities existed in the D.C. Metro area, Jenkins' mother asked the Britts if they would take Kris in and become his legal guardians. And so they did.
    "My parents believed that, in terms of education and basketball, living in the DMV area was better than being in South Carolina", Jenkins said to the media at the Davis Center this past Monday afternoon. "At first it was hard, because you never want to leave your parents. But it was definitely the right move."
    After moving in with the Britts, Jenkins joined Britt's AAU team. When it came to high school, the duo took their talents to Gonzaga High School in Washington, D.C. By the end of their high school careers, both had received athletic scholarships from nationally-ranked college basketball programs with championship history.
    While Jenkins' teammates and coaches are aware of the unique situation, Villanova is focused first and foremost on its next game. "This is something very special for his family and we know all about that, but we have not talked about anything other than Oklahoma", senior big man Daniel Ochuefu said.    
    With both teams coming into the tournament highly-ranked and poised to cut down the nets in Houston, Britt and Jenkins always knew there was a chance the two could face off on the biggest stage in college basketball. And now, both men are just one win away from making that happen.
    "This something that is very special and very important to me", Jenkins said. "Facing each other wouldn't be odd at all. Both of us have worked really hard to get to where we want to be."
    If there's anything to take away from Kris Jenkins' story, it is to never underestimate the strength and influence of family in our lives. It is through our families in which we are empowered and inspired to accomplish anything we set our mind to in life. Our families give us the confidence and skills we need in order to succeed. This is what the Britt family has done for Kris Jenkins.