University discussion highlights Nike sweatshop labor concerns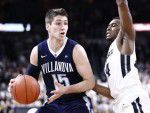 It takes just one glance to recognize Nike's strong presence on campus. The swoosh symbol is prominently stitched on student athletic gear, bookstore merchandise and student clothing. 
Villanova, a fair trade university since 2013, currently has a multi-year contract with Nike that includes a small cash component and larger product component.
Students, like sophomore football manager Bryce Sistrunk-Lewis, support this contract. "Their brand has the best shoes for performance and style," he said.    
On Tuesday, March 22, during an event on sweatshop labor, students were asked to question the school's affiliation with the brand and place pressure on Nike for better factory regulation.
Much of this request is due to a change in Nike protocol. After 15 years of allowing WRC, Workers Rights Consortium, to independently monitor factory conditions, Nike decided it would no longer allow the WRC to enter its factories and will now monitor the conditions of all 680 factories.  
Nike's production is not unusual amongst the big name apparel brands. Similar to Nike, Adidas does not own its 1500 factories, but instead outsources work to different factories across many countries. Alta Gracia is the only apparel company in the developing world that pays a certified living wage and ensures safe working conditions.   
 "That's why we are here today," said Morgan Currier, International Campaigns Coordinator at United Students Against Sweatshops. "To hold Nike accountable to be transparent and open about what is going on in its factories."
In attendance at the event was Noi Supalai, former Nike factory worker from Thailand. She began her talk by noticing that an audience member was wearing Nike. Supalai said, "It is not your fault to wear Nike stuff because you do not know about the stories."
Factory work for Supalai began with good conditions and sufficient wages. She made clothes for Europe and America for brands such as Nike, Puma, Spider and Columbia. When the economy suffered in 2008 conditions worsened.  
 "The factories began to receive fewer orders," Supelai said. "That is when Nike took the opportunity to take advantage of the factory by making an agreement with the factory that the workers would produce in higher quantity in shorter time with less costs."
 If the factory did not accept the deal, Nike would take the order elsewhere. Supalai's factory was not able to meet the quota. According to Supalai, "We were not going home to our families. People were taking the day shift and working 24 hours."
After one month passed and the factory still could not meet the order, Nike threatened to pull the order and refused to pay workers. Workers like Supalai could not afford rent or food.
Factory workers came together to protest. The factory executive asked 25 workers to come and negotiate. When the group entered the room to discuss wages, the doors locked. Only two workers, one of which was Supalai, were allowed out to talk.
"If we did not get all the workers to go back, everybody would be fired and would not receive a single dollar," Supelai said.
Workers reached out to the government in Thailand. The Department of Labor came and talked to executives but was unable to make progress, because the issue was deemed internal business. 
When the government failed to intervene, workers filed a complaint to Nike. The company sent representatives. Workers explained the problems and the representative noted the severity of the issues and promised to help. Nike promised to return in two days.
"When the date came, Nike never came," Supelai said. "They disappeared, pulled all orders and left workers to fight against the factory. I thought Nike, such a big company, must have business ethics. They are not interested in people's well-being, only profits."
As a last attempt, workers sent a letter to WRC. Considering a big company like Nike threw them aside, they had little hope in WRC. However, WRC inspected the factory, helped workers return to old positions without punishment and gave people the option to resign. 
Supalai ended her talk by telling the audience it is okay to consume Nike products, but students should pressure brands to be more responsible in how "They [Nike] treat workers because they don't care."
Considering Villanova's relationship with Nike, and Villanova's commitment to Fair Trade practice and social justice, these issues hit close to home. According to the Villanova Athletic department, Villanova University and Villanova Athletics takes factory labor code standards very seriously. 
Students, like senior Brendan Delaney, are skeptical. "To have a relationship with a company that has historically treated its workers so poor is not only unethical but contradictory to the identity we claim as a Catholic and Augustinian University," he said.
The Villanova Athletic Department states that it has been engaged in developing labor code standards and monitoring verification systems for years. The school works closely with licensees and organizations such as CLC, Collegiate Licensing Company, FLA, Fair Labor Association, and WRC to have positive impacts on workplace conditions.
To monitor factories effectively, the CLC ensures that licensees disclose the factories that are used for the production of collegiate merchandise. Villanova also works with the FLA which oversea monitoring and evaluates compliance with labor code standards.    
"Villanova believes that it can best promote improved labor standards by joining forces with other universities, licensors and licensees in a unified effort to develop and implement consistent and enforceable labor code standards," Athletic Director Mark Johnson said. 
When asked about the conditions at Nike factories, Johnson responded, "Nike implemented a process that includes factory visits and factory tours to ensure the proper policies and procedures regarding worker safety are in place. The rights and safety of the workers are of the utmost importance to Nike and all the institutions connected with CLC."
The status of Nike's relationship with Villanova for next year is uncertain. As with all corporate partnerships, it will be evaluated towards the end of the term.