Op-Ed: The trouble with our commencement speaker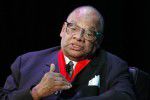 I am troubled by the University's choice for this year's commencement speaker. This might be surprising.  
George Raveling is a Villanova alumnus and a well-known, ground-breaking basketball coach. What disturbs me is that he is a leader in a company that not only has a sordid history of using sweatshop labor but also is once again embroiled in controversy.  
Raveling graduated from Villanova in 1960 and went on to successfully lead men's basketball teams at schools like the University of Southern California while also breaking down racial barriers, earning a spot in the College Basketball Hall of Fame. He is also Nike's Director of International Basketball.         
Nike's fortune has been built in part on sweatshop labor. Factories it has used abroad have, at various times refused to pay what they legally owe employees, relied on child labor and unsafe working conditions, threatened, penalized, and physically restrained workers in a union or trying to form a union, threatened to fire workers for being pregnant and showed a Dante-like talent for dreaming up physical punishments for employees (for example: a factory in Indonesia made six women stand in the sun for hours for not working fast enough). Under pressure from workers, students and others, Nike has, at times, taken halting steps towards change.  
In 2009, the company refused to pay 1,800 laid-off workers in Honduras what it owed them. The workers resisted, making their voices heard through a monitoring organization called the Worker Rights Consortium (WRC).  Hearing about the struggle, students affiliated with United Students Against Sweatshops began agitating in America. The result: in 2010, Nike agreed to pay a deserved $1.54 million to those it laid off. Movements like United Students Against Sweatshops and Solidarity Ignite have also started pointing universities towards the alternative apparel brand Alta Gracia, which boasts a unionized workforce paid a living wage.
Now Nike has sparked a new controversy.  It is refusing to allow the WRC, the crucial, independent monitor that I mentioned above, to inspect its factories. The WRC plays a powerful role in holding companies accountable for infringing on workers' rights and giving universities an accurate idea of how their apparel is made. Nike's refusal came just as the WRC was beginning to investigate a series of strikes in a Nike-affiliated factory in Vietnam. Villanova, along with 182 other colleges and universities, is affiliated with the WRC, and it has a right to demand that those who stock its bookstore with goods allow the WRC to examine the conditions under which those goods are made.  
It is crucial to take up the question of our responsibility today. The NCAA men's basketball championship has put not only our school in the spotlight but also our school's choice of Nike apparel. And yet Nike's past practices, and its current attempts to prevent reliable monitoring, conflict with a Catholic and Augustinian heritage emphasizing that each person must be guaranteed access to the common good—guaranteed, that is, access to a flourishing life free from exploitation. This message has been constantly repeated as a central part of Catholic Social Teaching. A discussion about sweatshops has only just been reignited on campus.  The Villanovan reported recently on a new group—Villanovans Against Sweatshops, with whom I work—that hosted a consciousness-raising event about Nike's labor practices. That group will be meeting with Father Peter in the coming weeks to begin discussing the university's response to the corporation.  
But this is just a beginning. What's needed at the same time is a vibrant, campus-wide effort to raise awareness about the sweatshop problem—which stretches far beyond Nike—and an equally broad and passionate discussion of how Villanova can best help a growing movement to pressure offending companies and turn to an alternative. These efforts should include examining the university's decision to invite a Nike executive to speak at graduation.