Women's soccer held scoreless in Lehigh loss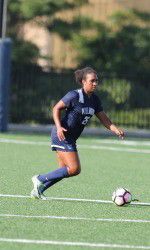 The women's soccer team fell to Lehigh 2-0 Sunday afternoon at the Higgins Soccer Complex. The Wildcats, now 1-6, struggled to find the back of the net with 18 shots, nine of which were on goal.
Junior Adrian Vitello's penalty kick was saved by senior goalkeeper Emmalee Meyer, but a deflection off of Meyer's foot gave Vitello a second chance to sink Lehigh's first goal in the 30th minute.
The Mountain Hawks then secured their victory when freshman Maggie Wadsworth broke away from her defender and sunk a high right corner shot with just over a minute left in the game.
The Wildcat offense started strong, forcing freshman goalkeeper Sam Miller to make four saves in the first 22 minutes. Freshman Ida DiClemente led the team with four shots on goal, followed by two from sophomore Noa Kopplin. However, a career-high nine saves from Lehigh's Miller brought the Mountain Hawks their sixth straight shutout and the Wildcats their fifth scoreless game this season.
The team will travel to LaSalle Thursday for a chance to end their current six game losing streak.