Reardon's Villanova experience translates to high school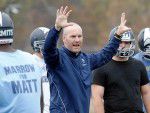 It's Friday night under the lights in Richland, N.J. Before the Saint Augustine Prep kickoff team takes the field, it huddles up together, says a few words and breaks down as it heads onto the turf. 
Some might say this ritual looks vaguely familiar to the Villanova football team's pre-kickoff routine, and they might be right. Mark Reardon, head coach of the Hermits, was once the defensive coordinator under Andy Talley. Reardon tries to embody all he learned from Talley and instill the same values into the players at Saint Augustine Prep.
Reardon grew up in Atlantic County, N.J., and football has always been a part of his life. He played as a youth at Holy Spirit High School and in college at Lafayette.
"I really didn't know what to do," Reardon said when he recalled graduating college and leaving behind his career as a player. 
But if there was anything he loved, it was football. So he decided to try coaching. Charlie Roman, his friend and now offensive coordinator at Saint Augustine, recommended Reardon become a graduate assistant at the University of Albany. Reardon figured if he was going to get his master's degree, his graduate school was going to be paid for. Once he started coaching at Albany, he fell in love with this new position. 
After coaching at the University of Albany, he became the defensive coordinator at Siena College. After spending four years at Siena, he went back to Lafayette for another three years under former Leopards head coach Bill Russo. In his first few years in coaching, Reardon learned the ropes of coaching college athletics. 
"When you're coaching at the college level, the one thing you need to learn is you have to move," Reardon said. "It's a journeyman profession. When I was younger, that was in my mind—take it and interview [for] the next job, because nothing is permanent." 
In his second year at Lafayette, Russo retired and told Reardon about a coaching position at Villanova with his close friend, Andy Talley. At that point, instead of leaving Lafayette, Reardon wanted to live out his remaining year at Lafayette because of a promise he made to Frank Tavani, who replaced Russo as head coach. 
After Reardon finished his third year at Lafayette, the secondary coaching job at Villanova opened up again. Reardon denied the job initially, but he took advantage of another opportunity to coach under Andy Talley's staff. After interviewing, he became Villanova's secondary coach and special teams coordinator. 
Reardon held those responsibilities for his first four years on the Main Line and was promoted to defensive coordinator in 2005 after Joe Trainer—now the special teams coordinator and defensive line coach for the 'Cats—became the head coach at Millersville University. 
"It was a really good place to work and a fun job to have," Reardon said about his 12 years on the Main Line. He enjoyed being on Andy Talley's coaching staff because he was given autonomy and was able to be creative on the defensive side of the ball. 
"Coach Talley let me do my thing," Reardon said. "He was a good guy to work for. There was a lot of freedom on the staff, and I embraced that. I wanted to be as creative as I needed to be. I'm not a person who is afraid to take chances if I feel like it's worth it. You have to work for somebody who embraces that." 
Along with this creativity and autonomy, Reardon added some stellar accomplishments to his experience with Talley. His tenure at Villanova was highlighted with the 2009 National Championship victory. Over his 12-year span at Villanova, the Wildcats won more games than any other team in University history at that time. Not only was there success on the field, but also while Reardon was at Villanova, the graduation rate was very high. 
"When you recruit a kid, you promise their family that regardless of what happens, they are going to graduate and get a degree," Reardon explained. "We don't take that statement lightly." 
As the years passed, life outside of football became more important for Reardon. After his 12th year, he left the Main Line to become the head coach at Saint Augustine. But this opportunity was more than just about football—it was about his family. 
"I left Villanova because I needed to do a better job as a parent, to get home and raise my kids," Reardon said. With two children ages five and eight at the time and his wife working full time, it became hard on the family. "The reality is that you're a parent, and you need to make sacrifices for your kids." 
Talley understood the predicament facing his former defensive coordinator.
"Being a South Jersey guy and a family guy, he needed to spend time with his family," Talley said.
Since leaving Villanova and becoming the head coach at Saint Augustine, Reardon has become the winningest coach in only four short years. He has lead the Hermits to multiple playoff appearances and has developed young men on and off the field. 
Reardon touts 41 career wins so far, and this season's undefeated record looks promising. Saint Augustine Prep's 47-30 victory against Pennsylvania powerhouse Malvern Prep in the season opener made quite the statement. While Reardon sets his sights on the state championship, the road there will be anything but easy. The Hermits will have to face Dom Bosco Prep, St. Peters Prep and St. Joe's Montville in arguably the toughest division in the country.  
"Mark was a terrific coach here [at Villanova]," Talley said of Reardon. "He did a great job with our defense. He is an extremely hard worker and a great motivator. We are really proud of him." 
Each and every day, Reardon tries to instill the lessons he learned from Talley to his players at Richland's proud and peaceful glen. Similar to the way he was treated at Villanova under Talley, he allows his coaching staff to be creative and give them freedom as well. 
"You hire good people and let them do their job," Reardon said. "You interfere when there is an issue or when something needs to be taken care of because, ultimately, it is your program. You trust the people to do their job, or you don't hire them." 
Along with a good staff, consistently winning has always played a major role when coaching. It's one of the reasons Andy Talley has coached for over 30 years, and Reardon has tried to mimic his mentor's success. 
"You don't keep your job at any level, especially the scholarship level without having success," Reardon said. "To be consistent over a 30 year period of time is ridiculous. [Talley] is a good guy that's got it figured out and just keeps on winning."
Both Coach Talley and Reardon place great emphasis on the student athlete. 
"It's crucial to understand that [the athletes] are here for an education first," Talley said. "Very rarely do we send guys to the pros, so you're going to have to work the rest of your life. You need to be on task with your academics, and you need to be a good person." 
Reardon couldn't agree more about his players.
"By the end of the day, the quality of their life is going to be based on their education," Reardon said. "The game of football teaches you a lot of things, including toughness and perseverance. Their academics and education is the most important of all this. That's why you send your kid to Saint Augustine and to a school like Villanova."  
As for whether he would coach at the college level again, Mark Reardon doesn't think that far ahead. 
"He could be a head college coach," Talley said. But Reardon has a different approach to his coaching career. 
"One of the things I try to do is take every day as it comes," Reardon said. "I don't want to have a long-term plan because I don't know what that is". 
As far as the Saint Augustine football program, the goals are the same as they were when he was on Lancaster Avenue—consistently win, aspire for a state championship and have all of the players graduate so they can successfully advance in the next stage of their life. In order to do that his way, Reardon will just take every day as it comes.