Never change, Pavilion, so I don't have to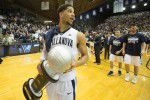 "The Pavilion is a piece of crap." How many times have you heard that sentence (or some variation with more or less expletives) around campus? I'll set the over-under at 1K, and that's generous.
Naturally, then, when I heard this Saturday's game was the last at the Pavilion, I jumped for joy. Thank God, I thought, they'll finally tear that piece of junk to the ground and get a real stadium with real seating instead of bleachers, for Christsake. Enough, already, of this "arena" which was meant for wrestling, not basketball. I mean, come on, the place looks more like the Smurfs' house than an NBA arena. The points in the roof? Weird, not charming. The scoreboard stuck in 80s technology? In need of repair, not retro or cool. 
So I arrived at the Pavilion at 2:55 p.m. on a 73 degree February afternoon — a day which made the "spring" semester earn its title. I wore my Ryan Arcidiacono jersey, it's a throwback now. As I walked up along the intersection of Ithan and Lancaster, I didn't recognize a single student. I did, however, see a pair of young'ns — one wearing a Kris Jenkins jersey and one wearing a Josh Hart jersey. I wondered if they knew the significance of those jerseys, and I wondered which Villanova jerseys they might wear in ten years. 
I decided to be a fan this time around, something I hadn't done at the Pavilion in two years, just for old-time's sake. Oh right, the Wildcard. Duh, you have to go around the staircase in the back to get into the student section. I had forgotten and would forget again.
When I got to the top of the staircase, I saw the retired jerseys — steadfast and sturdy. They had looked upon this court for decades — through six U.S. presidents, through Jordan-Kobe-Lebron, through well beyond my entire lifetime, those jerseys hung in the same place and in the same manner. And damn it, that's when I knew I was going to miss this place.
It's hard to imagine a more picture-perfect finish to Villanova's run at the Pavilion. Not a blowout, which is good, for entertainment's sake. Not too close, which is most important. It was like the last bowl of porridge — just right. 
The final points scored at the Pavilion were thrilling, too. With the shot-clock winding down, senior Josh Hart buried a top-of-the-key three to secure a 16-point victory. My initial reaction was simple; isn't it fitting that one of Villanova's most prolific guards gets to put the period at the end of the Pavilion's death sentence?
I thought back to my freshman year, our freshman year. Hart was a sixth man before he was a National Player of the Year candidate. He was a slasher before he was the best all-around offensive force in the BIG EAST Conference. 
I remember thinking how quirky Hart's shot looked, his elbow is tucked in a bit closer than the textbooks instruct and his legs tend to tick out in random directions. Did you ever notice that Hart tends to pucker his lips when he shoots? Yes, millennials, like the duck face, like the duck face. And low and behold, the final points Hart scored at the Pavilion looked a lot like his first tally in the box score four years ago. 
And who was running alongside Hart, flexing as he always does? Kris Jenkins. Just take one glance at Jenkins and he looks like another man; he's slimmer now than ever and he's been ever-so-slightly tweaking his haircut over four years. 
Remember when Jenkins used to play in the post more often? He hasn't been getting into the paint much this year, but that changed Saturday. It's as if Big Smoove's groovy post-game was resurrected so we could flashback to the player he was and appreciate the legend he has become. 
Hart, Jenkins and the rest of the team came by the student section to say their goodbyes. They stood up on a table positioned in front of the rowdy crowd, they threw up their V's as they had for four years and as they always will. And then, hopping up on the table behind them, was Darryl Reynolds (he didn't play, due to an injury). He used to wear number 14, but now he's donning 45. In that transition, Reynolds went from garbage minutes with the "Bench Mob" to a National Champion to a full-time starter. Perhaps his role has grown the most of the three seniors.
Reynolds was beaming, he has the widest smile on the team, if you haven't noticed. But how could you not have noticed? Through the thick of it all, Reynolds always found room on his face for a smile. Fitting, then, that his last hurrah at the Pavilion is a moment of joy, even when he didn't play a single minute. 
When the three seniors stepped down from the podium and started walking away, I had no choice but to turn my gaze inward. Am I the same kid I was four years ago? Or have I changed? Or is the college experience not a matter of black and white, but some diluted mix of both — perhaps blue and white? The truth is that I grew up with Hart, Jenkins and Reynolds. Whatever the hell "grow up" means.
I missed the senior sendoff before the game. Why? I don't have a car, my roommate tends to be late, he's got this thing with a girl he likes and he was hanging out with her… whatever, doesn't matter. I didn't think it was a big deal until I saw the free t-shirts they passed out at the event designed by none other than former Villanovan Editor-in -Chief, Caroline Foley. 
"4 years," the back of the shirt read, "felt like 4.7 seconds."
It's clever. It's witty. And, you know what? It's true. It's not factual in any sense, but feelings aren't facts. They don't give a damn what's "better" or what's "best." Feelings just exist, even when they confound both reason and science.
So what did I do? I scanned the Pavilion bleachers looking for a shirt someone left behind. Forget the ethical dilemma of stealing (I mean, quasi-stealing, at best) a shirt that would've found its way in the garbage anyway. I needed that shirt. Up and down I went, from the top of the stairs to the bottom, making my way into the back of photos and riding against the stream of students making their way to the exits.
And then I realized what I was doing. I was stalling. I was trying to savor those four years which turned into 4.7 seconds and then became this flash in time. I didn't want to leave the Pavilion because I knew when I left the Pavilion that was it. In tearing down the Pavilion, the powers that be were tearing down the world as I knew it. 
Well, they aren't completely annihilating the Pavilion. They're remodeling it. So too, will the seniors remodel.