Senior defensive lineman Tanoh Kpassagnon gives Villanova name in NFL draft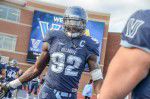 As the final seconds of Super Bowl LI expired and the New England Patriots etched their names into Super Bowl lore, the other thirty-one NFL teams will be burning the midnight oil trying to find the next diamond in the rough in the upcoming NFL draft.
Diamonds like Tom Brady or Malcolm Butler who hide in the shadows among the big stars we watch every Saturday hope to shine bright enough to draw attention to themselves long enough to get a shot in the NFL.
Villanova's influence on the game of football has been significant—not at the levels of Alabama or Ohio State but noteworthy just the same. The program has seen its fair share of great athletes and players including Howie Long, Brian Westbrook, Brian Finneran and many others that have had long and successful careers in the NFL. There may, however, be another name that is mentioned with these greats that is flying under the radar, biding his time and waiting for his opportunity to show that he can compete at the highest level. 
His name may not sound familiar to many, but to his peers, coaches and professors, it's hard not to envision a man whose effort is unmatched. His sheer will to be the best doesn't go unrecognized. Senior Tanoh Kpassagnon is a player who excels not only on the field but in the classroom, setting a new standard for what it meant to be a "student-athlete" at a school as prestigious as Villanova.
His motivation to compete seamlessly transferred from the field to the classroom on a daily basis, enabling him to double major in Finance and Accounting in the  School of Business. He held an internship in the summer at PwC where he began every day by waking up at 5 a.m. to work out with the rest of the team before boarding a train to work an eight-hour day. He stood as a role model to the football team and was awarded a spot on the CAA All-Academic Team in recognition of his efforts.
Kpassagnon goes beyond his rigorous academia, and deep down in his heart he yearns to be a great football player. Before graduating from Wissahickon High School in Pennsylvania, Kpassagnon hadn't been recruited heavily. Instead, he focused more on academics and getting into a good college to please his parents. Head Coach Mark Ferrante saw his diamond in the rough in the form of a 6'7", 290 lb defensive lineman who could prosper not only as a student, but as football player with the proper guidance that Villanova has to offer. Ferrante later welcomed him into the Villanova football family, ensuring him and his mother that education would always come first.
Kpassagnon's career had its ebb and flows throughout the five years he was at Villanova. He redshirted his freshman year and later caught the injury bug that sidelined him for most of his sophomore season, setting the stage for his redemption tour of 2015. In his junior season, he achieved a First Team All-CAA selection, recording 33 total tackles, 9.5 of which were for a loss, 6.5 sacks, two blocked kicks, a fumble recovery and an interception. He proved that he was an unstoppable force coming off the edge, leaving offensive linemen with nightmares for weeks after they had been embarrassed by this burly man. This, however, was not the last of Tanoh Kpassagnon. 
Following a solid three years of play, Kpassagnon entered his senior season as captain, looking to prove that he was worthy to not only lead his team but to also leave his mark in Villanova football history.  Voted preseason STATS FCS All-American, Kpassagnon put his head down and got to the grind, taking the season day by day to improve his large repertoire of skills in order to manhandle the next week's opponent. By the end of the season, Kpassagnon had accumulated 11 sacks, 21.5 tackles for loss, 45 total tackles, two fumble recoveries, a forced fumble and a touchdown. He was voted the team's MVP on defense while also adding to his large list of accolades the CAA Defensive Player of the Year and was named a STATS FCS All American.
Following his tremendous season as a senior, Kpassagnon was invited to the Reese's Senior Bowl, a highly coveted game that only the elite of the elite are invited to go to. His presence was felt immediately when he walked through the door. He raised the eyebrows of scouts when he participated in weigh-ins, and really opened their eyes when he made offensive linemen look like fools on the practice field. He finished the Senior Bowl with a couple of tackles and a forced fumble, drastically improving his draft stock. 
After the Senior Bowl, Kpassagnon began training for the NFL. On Thursday, April 27, the draft will begin in Philadelphia, allowing NFL organizations to choose the cream of the crop to join their team. The Villanova community will watch as one of our own has the opportunity to be drafted in one of the first rounds.
As for the rest of his team, we will sit patiently for his name to be called and will gladly hand him off to his new team, wishing him nothing but a long and prosperous career. We thank Tanoh for all the success he's brought to our school and program. We will be watching him closely on every Sunday cheering him on, and waiting for him to prove that one of Villanova's best deserves to be on that field. Keep "Tapping the Rock."