Editorial: All welcome here: Villanova protects Dreamers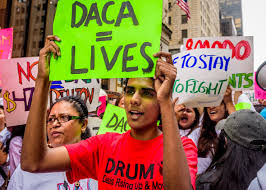 As students of a University founded to be a refuge for Irish immigrants, we felt compelled to speak on the repeal of the Deferred Action for Childhood Arrivals. Although some may argue we have a broken system in terms of immigration, we turn down the chance at producing more beneficial policies by employing this quick fix to a problem that is not a problem to begin with. Ninety-seven percent of the 800,000 DACA participants are employed or enrolled in school. These Dreamers are hard-working individuals who each deserve as much of a chance at working and studying as anyone else. These skilled, well-educated students provide much needed diversity and contributions to society. Forcing them to leave not only means a major change for the participants of the program but for our economy. 
The economy is not the point or the main concern.  What matters is that although their parents or families may have come from a different country, America is each one of these children's homes. It always has been and it always will be. This is a place in which hope of a greater future, one of equality and promise and opportunity, has come to life for each of them. Pushing these individuals away, telling them they are no longer wanted or appreciated, changes that land of opportunity ideal that America so often prides itself on. We must understand what kind of role that standard plays in our developing sense of a nation.