Editorial: Take time for reflection this holiday season and take part in HHAW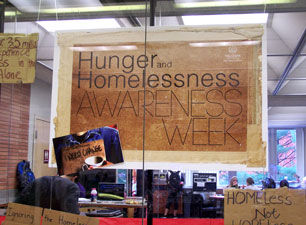 As the holiday season falls upon us, we reflect on the things in our lives for which we are thankful: friends, University President Rev. Peter M. Donohue, O.S.A., Ph.D. and food. Food in particular is a hot topic, as the celebrations of these holidays often involve excessive amounts of pudding pies and mashed potatoes. We recognize that our culture has correlated such feasts with the observance of these holidays and the idea of coming together. Yet, this tradition can take a dangerous turn when people become unaware of what a privilege it is to be able to take part in such festivities. 
This week is Hunger and Homelessness Awareness Week on campus. We hope you have checked out some of the events being held on campus in the past few days, including the Keynote Address by Michelle Taylor and Angela Sutton and the Fair Trade Craft Sale. If you have not had a chance, consider participating in the Solidarity Sleep Out or the Hunger Run. 
Each of these activities and events strive to educate students regarding the roles they can play in the fight against hunger and homelessness. Pay particular attention to the privileges you enjoy so freely, especially in the upcoming weeks, and incorporate actions in your life that will work towards the advocacy and change surrounding issues of poverty.