Chew Philly Food Tours Give You a Taste of Manayunk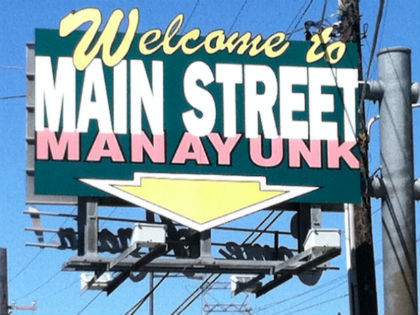 Deanna Passaretti Co-Editor-in-Chief
November 7, 2017
Vacations are for the relaxation, the adventure, the change of scenery, the discovery, but most importantly, the food. I've done a food tour in almost every city I've ever visited: London, New York, Madrid, Galway, Prague, Rome, Indianapolis, Chicago and of course, Philadelphia. Food tours are the absolute best way to see a city, because they are centered on the most memorable part of every travel experience, the food, while still giving you a great idea of what the city is like and the history surrounding the hot spots. Most food tours are led by a local guide who has dedicated his life to two passions: his city and his food. 
Food tours are typically groups between 10 to 20 people and will stop at between five to nine different locations spaced out around the city. Guests often receive a pamphlet with information about each of the stops, as well as recommendations for different types of food and restaurants in the area. Tour guides will let you know the best places to eat for the rest of your trip, so making the food tour your first vacation plan will set you up with a full stomach until it's time to go home. 
This past weekend, I took the Manayunk food tour with Chew Philly for the first time. Chew Philly has a great promo for first timers with discounted tickets for your whole group, so it's a great option for students. The tour started at Marchiano's Bakery, where we sampled tomato pie and pepperoni bread. Tomato pie is served cold and is loved for its robust flavors in the sauce and crust instead of a focus on the cheese like a traditional New York slice. Anyone who orders a tomato pie from Marchiano's on game day will receive the pie with an Eagle's logo crafted out of parmesan cheese, whether or not you are rooting for the Eagles (Go Birds?). Our tour guide told us that Marchiano's really took off as a Manayunk staple when Frank Sinatra performed in Philadelphia and discovered tomato pie here. Since tomato pie is extremely regional to West Philadelphia, people began to flock to Marchiano's with Sinatra's ringing endorsement—he ordered every tomato pie they had in the shop to take back to his friends and family the day he tasted it. 
Our guide then delivered fresh pretzels from Tasty Twisters up the street. The walk was a little too far, so she had picked them up beforehand for us to try. This truly was the best Philly pretzel I've ever had, which I learned was a result of a time-consuming baking process and the creation of pretzel salt. Regular table salt on a pretzel actually has a negative reaction and will ruin everything but the knot in the center, so pretzel salt was invented specifically for Philadelphia's pretzel craze. The average American eats two pounds of pretzels a year, but the average Philadelphian eats 26—keeping gems like Tasty Twisters in business. 
We moved down the street to the Manayunk River Walk, which is a beautiful walking and biking path along the canal. A little known fact about Philadelphia is that the city is sixth in the entire world for the most green space per square foot, with many hidden gems like the Manayunk River Walk just along the city's borders. The beautiful path full of dogs, walkers, bikers and unbelievable fallen orange leaves led us to the River City Outpost, where we enjoyed local apple cider and John and Kira's famous honeybee chocolates on their outside patio. You can get John and Kira's chocolates locally at the Bryn Mawr Train Station farmer's market every Saturday or the indoor market next to Trader Joe's in Suburban Square. 
Our next stop was, of course, the perfect Philadelphia cheesesteak at Sorrentino's Deli. Here, we learned that the most important part of the cheesesteak is actually the roll. Think about it—filet mignon on a stale crusty roll won't leave you remembering the meat. Luckily, Sorrentino's sources its bread from the Conshohocken Baking Company every day, helping to get that fresh and perfect cheesesteak every true Philadelphian craves. I don't think this was the best cheesesteak I've ever eaten, but it was definitely worth more commotion than the tourist stops at Pat's or Gino's. This building also holds a ton of history for Manayunk and is one of the only shops that still has the iconic original bay windows that used to define the city before more modern architecture took over. 
We moved onto dessert at Volo Coffeehouse, which is a certified La Colombe coffee brewer. All of the baristas who serve La Colombe coffee have to go to a specialty training school for weeks before beginning work, helping to make every cup so perfect. Our tour guide gave us cappuccinos from Volo's, as well as a fresh macaron from Nutmeg Cake Designs—another staple in Manayunk that doesn't actually have a storefront. All orders from Nutmeg Cake Designs are delivered from the industrial kitchen. This was one of the best macarons I've ever eaten (including the many I ate in Europe), and I would have never known about it without this food tour. Signs along the street benches of Main St. encouraged you to sit down, read a book and stay awhile—not the typical stereotype for American cities. Our guide pointed out many times that Manayunk may be a part of the city but is in so many ways a small town where all the shop owners know your name, your dog's name and most of your life story. 
Our final stop was at Manayunk's brand new ice cream shop: Tubby Robot Ice Cream Factory. This hot spot has only been around for five months but boasted lines down Main St. all summer. Its ice cream formula took years to perfect and I can attest that the Dark Chocolate Ripple was worth every bite. The shop has video games along the walls, making it the perfect place to bring your kids or just act like a kid while you enjoy the perfect scoop. 
Manayunk is just a 20-minute drive from the University with a ton of free or almost- free parking (I paid $1 an hour for my lot). While many know this quaint part of Philly for its nightlife, Manayunk eateries and shops are worth a daytime visit, and the Chew Philly food tour was an awesome way to spend a Sunday and really get a taste for Manayunk—literally.