Diane Nash Delivers MLK Keynote Address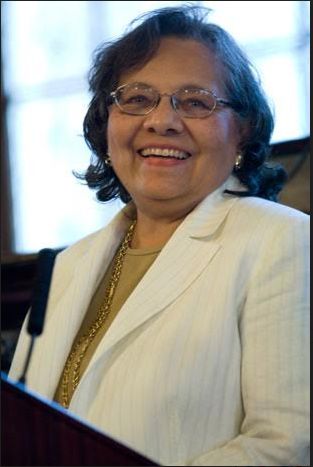 The  University celebrates the legacy of Rev. Dr. Martin Luther King Jr. with a variety of programs, close to the time of King's historic visit to the campus in 1965. 
The Center of Peace and Justice Education hosted its annual Martin Luther King Jr. Keynote Address on January 24, 2018. 
This year, University President Rev. Peter M. Donohue O.S.A., Ph.D., introduced the keynote speaker, Diane Nash, a champion of the Civil Rights Movement who worked side-by-side with King.
Nash is known for her role as a prominent leader and strategist in the Civil Rights Movement. She was ordered by a representative of the U.S. Government to stop the Freedom Riders.
 Instead, she argued that the Freedom Riders were aware of the opposition and danger that awaited them in Birmingham. Nash spoke of her fond memories of Dr. King, emphasizing his humanity and the fact that he rose to new levels to solve problems.
 She is well-known for campaigning to integrate lunch counters and co-founding the Student Nonviolent Coordinating Committee (SNCC).
Nash began her speech, noting that growing up on the south side of Chicago, she realized the presence of "white only" signs around the city, but did not observe the extremities of segregation until she moved to Nashville, where she attended Fisk University. 
In Nashville, Nash was taken aback by the magnitude of the segregation system, feeling as though "when [she] obeyed these segregation rules, she was agreeing with them." 
She actively sought out organizations on campus that combat the system of black versus whites, yet could find nothing of the sort. Nash recalled being asked by a classmate why she was unable to just go to class, go to parties on the weekends, and just be cool. 
Unable to cope with the division she experienced, Nash decided to attend workshops put on by Rev. James Lawson, a leading theoretician of nonviolence. 
Through Lawson, Nash learned of Gandhi's practice of nonviolence and the search for a positive way to end violence. 
"I was able to gain an increased understanding and philosophy of what in which the Civil Rights Movement was based," Nash recalled.
After learning from Rev. Lawson, Nash took initiative with the Student Nonviolent Coordinating Committee. The SNCC surrounded the principle of "agape," a Greek word that most University students are familiar with meaning "love for humankind." 
This word was what the student activists sought to explain their work with segregation. They wanted to use energy produced by love instead of violence as a way to invoke societal change. 
They found a solution in "agapic energy." 
"You probably never heard that before," she said with a smile. "That's because I made it up." 
By using this "agapic energy," Nash and her counterparts were able to help de-segregate lunch counters and helped restaurant owners to convince other owners to follow suit.
 Nash spoke of her realization that if she and others had used force, the restaurant owners may not have helped the cause. The restaurant owner was not the enemy—it was his racism. 
One might think Nash would tell the audience about the tremendous feats she has accomplished. Instead she transformed the room into her classroom, speaking of valuable lessons in nonviolence. 
She spoke of how she and other activists were able to help stop oppression because they refused to cooperate with the oppression they faced.
 Nash discussed the six basic phases one needs to take to invoke change— investigation, education, negotiation, demonstration, resistance, and ensure the problem does not reoccur. 
Following these steps, one can instill change. These phases, using "agapic energy," are applicable to the relevant issues of today. 
Nash concluded her address with book recommendations, including Gandhi's "The Story of My Experiments with Truth" and encouraged the audience to take action for generations yet unborn. 
Diane Nash's MLK Keynote Address was a lesson for everyone to keeping working for justice and peace in the world today.