Villanova Featured in New Book "Madness"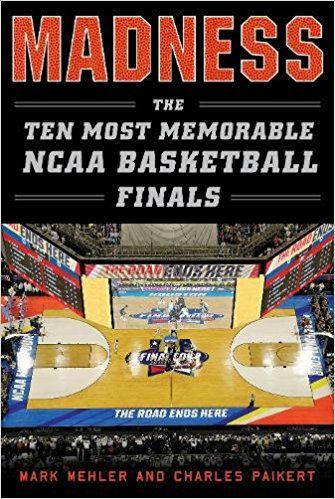 March Madness. One of the craziest and most-viewed sporting events of the year surely lives up to its name. 
With upsets, buzzer beaters and surprises around every corner, the NCAA Tournament is not for the faint of heart. Over the years, there have been an array of memorable games, especially on the biggest stage. Whether it is UNC taking down Wilt Chamberlain and Kansas in 1957, Magic vs. Bird in 1979 or Duke vs. a Gordon Hayward led Butler in 2010, the final game has lived up to expectations throughout the years.
This February, the release of "Madness: The Ten Most Memorable NCAA Basketball Finals" by Charles Paikert and Mark Mehler brought a unique perspective towards some of the most memorable championship games in the history of college basketball. 
The book is truly one of a kind, as the only others similar in style are composed more like an encyclopedia, with a focus on statistics accompanied by short summaries. Madness provides an in-depth analysis of the most memorable NCAA Championship games. The authors provide extensive background information behind each game, helping to build the magnitude of each matchup. With an array of games from different time periods, this type of information is vital for the reader to understand the context of the games. 
Mehler and Peikart are both avid college basketball fans. They have been friends for a long time and have watched many games together over the years. After watching so many remarkable championship games, they came up with the idea of writing this book a few years ago.
After being introduced to an editor who worked with Mehler's friend, the authors knew their concept could come to fruition.
"We pitched our story and the editor liked it so here we are," Paikert said. 
With so many memorable games over the years, it would be difficult for most to narrow down a list of 10, without receiving criticism for leaving a few out. Mehler and Paikert knew this would be the case, and did not let this hold them back. 
 "It was subjective," Paikert said. "We really tried to pick games that had a combination of being a really good game on the court but we also wanted to pick games that were significant."
Ultimately, Mehler and Paikert wanted to have a balanced list of memorable games that were significant for a variety of reasons, whether it be quality of game or social implications of the time. 
Surprisingly, Mehler and Paikert were in agreement on the ten games they chose to be the most memorable. 
"I think we were in agreement among ourselves," Paikert said. This was vital for the success of the book, as both authors were on the same page from the beginning.
For Villanova fans, this book is an enticing read, as both the 1985 and 2016 championship Wildcat teams crack the list. However, it may come as a surprise as to which one is considered to be in the top 10, as opposed to a consolation game. 
When asked if it was difficult to decide which Villanova championship game made the top ten list or consolation list, Paikert was clear with his answer.
"No, definitely the 1985 game was more important," Paikert said. "I thought we had a good title for that chapter, a perfect game from an imperfect team, that says it all." 
Villanova lost to powerhouse Georgetown three times throughout the 1985 regular season. With the Hoyas being the best team in the country, led by star player Patrick Ewing, it was remarkable that the eighth seeded 'Cats pulled off the upset, 66-64. 
"They put it together at the right time," Paikert said. "They did exactly what you're supposed to do in a big game."
Although the 2016 National Championship ended in a Kris Jenkins game winning buzzer beater, Paikert believes the rest of the game and factors going into the game, were less memorable. 
"As great a game it was, I'm not sure the backstory was all that interesting," Paikert said. 
With both UNC and Villanova as top two seeds, it was not surprising that these teams would be facing off in a final. Although the game had a remarkable finish, the majority of the contest was barred by inconsistent play and questionable officiating. 
As for similarities between the two championship winning teams, Paikert noticed quite a few.
"Strong four-year programs and the cohesiveness, really good and consistent team work rather than relying on stars," Paikert said. 
Villanova will forever be enshrined when looking back at the most memorable moments of championship games in college basketball, and their future continues to look bright. 
"They've got one of the best coaches in the game today, consistently good, consistently top flight," Paikert said. "Presumably, this year, they have a great shot at getting back." 
With the 1985 and 2016 National Championship Wildcats making appearances in this book, Madness is a must read for all Villanova faithful.