Countdown to Palooza: Meet the Sirens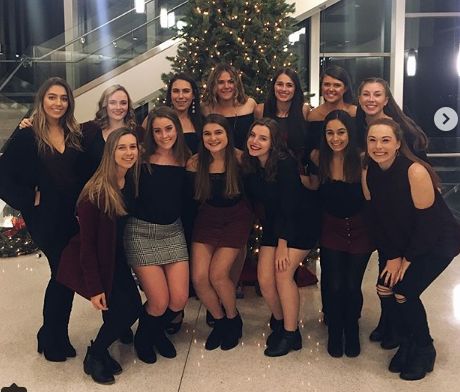 Alison Nieto Culture Editor
February 20, 2018
The Villanova Sirens are the University's latest all female A Cappella group. Founded in 2006, the group prefers to sing contemporary music but isn't afraid to throw it back every once in a while. 
In talking about their setlist, the Sirens agreed that they are the most excited to perform their opener. "We've been working on [the closer] for a really long time," freshman Julia Mustaro said. "We've been working on it since last semester, so it's been a long time coming." The group is also excited for the opener because it is the first arrangement done by freshman Katie Bodkin. Sophomore Cassie O'Hara also stated that she was excited for the opener. "I'm really excited for our opener because I think that it shows a new side of our group," O'Hara said` "It's [Bodkin's] first song that she arranged, it's our opener, it's a different vibe and it has two new members on it." The group is also excited to perform their closer, according to O'Hara, because "we put our own twist on it and the choreography is great." 
Last semester, the group performed their winter concert with the Villanova Spires. The Sirens reached a consensus that one of the senior's songs was the most difficult to do because it was different from what they normally do. "Claire's senior song was different from what we usually perform," freshman Amanda Giglio said. When the song came together, senior Taylor O'Keefe said that "it was really cool when we performed it, the audience got involved, which is different. We had them all clapping and singing along and we were all singing that in unison. It was great." 
Talking about other songs that came together, freshman Amanda Giglio mentioned another rewarding moment from their set last semester. "I feel like there was one song where the beat was really hard," Giglio said. "And I remember we were practicing one time and we got it and everyone just screamed 'Yes!'" 
Being one of three all-female a cappella groups, the Sirens believe they stand out because of their unique dynamic. "Our dynamic is very friendly and laidback," said senior Taylor O'Keefe. "We all text each other about stupid stuff all the time. We're very diverse and we're all our own people but I would say we are cool friends." "We all have our own things going on but something that unites us all is that we all have a passion for singing," said freshman Bethany deMena. "[Sirens] is definitely a priority that we have, but we're all involved in other things," senior Claire Katchur said. "It's not like our whole Villanova experience." 
The best part about preparing for Palooza for the Sirens "I think the best part is watching every single person individually take on their own role, like some of us are arranging and some of us are beatboxing, some of us are doing choreography and some of us are soloing songs," O'Hara said. "Everyone has their own responsibilities and they all come together to make the group what it is." "It's just so exciting because our entire year ramps up to this," Katchur said. 
Song choice really reflects the groups individual style, as well as the added choreography. Something that makes the group stand out from other groups on campus is that arranging is collaborative. "If anyone has any suggestion, the people that are arranging take it into consideration and do often change things," Bodkin said. "For example, we started a song and it was a little difficult at parts and people voiced that so we are reworking it right now. It's not like what one person says goes, it's very collaborative, and uses a lot of different styles and a lot of different vibes." Katchur added that the groups diverse background adds to their individuality. "All of us have different musical and dancing backgrounds some of did theater or some of us did A Cappella in high school or chorus," Katchur said. "Everyone has like a different kind of background and it all comes together in what we do, so like some people have really good ears or some people are really good at dancing. Everyone's background comes out in different ways and brings up everybody because we don't all have the same background."
The group is excited to see what happens, as they are almost an entirely new group. Almost the entire group is made up of sophomores and freshmen. The Sirens are also excited to see how their new sound is received. They hope the audience is most excited for the last ten seconds of their closer and the energy they bring to the stage. "Standing here and doing it for ourselves is great because we love them, but I'm excited to see everybody else love it," said sophomore Taylor Lange.