LEVEL Awards Father Bill Atkinson Humanitarian Award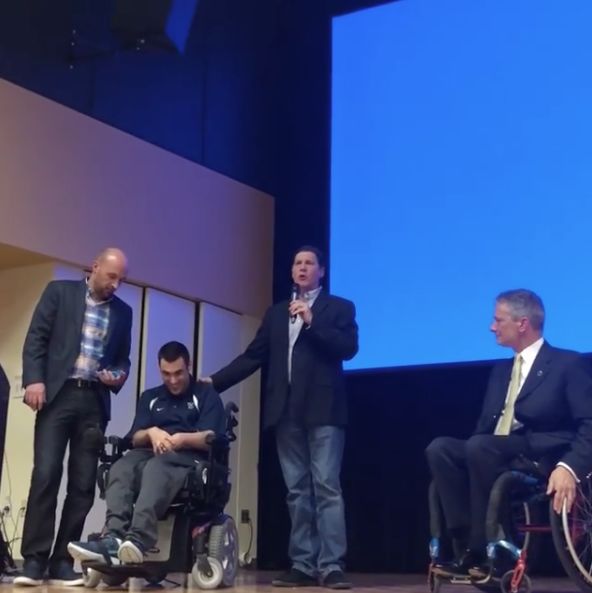 Victoria Berger Staff Writer
February 13, 2018
NOVAbility Week was in full swing last week, featuring many events hosted by LEVEL and the Office of Disability Services. 
The week included the launch of a new art exhibit featuring disabled artists, an inclusive hiring event co-hosted by the Villanova Career Center, a blind dodgeball tournament, a T-shirt giveaway at the Villanova vs St. John's basketball game and, finally, the awarding of the 6th annual Father Bill Atkinson Humanitarian Award.
This award was designed to honor an individual, group or organization that exemplifies the spirit and service that Father Bill Atkinson embodied throughout his life. 
Father Bill Atkinson was in a tobogganing accident in 1965, leaving him completely paralyzed from the neck down. He had little mobility in his head, neck and arms. He became the first ordained quadriplegic priest in 1974, and his first mass was celebrated at Villanova. 
Last year, the award was given to Celeste and Sydney Corcoran, mother-daughter survivors of the 2013 Boston Marathon bombing. 
This year's recipient of the award was a Villanova alum, Brian Muscarella from the class of 1980. 
Six years ago, Muscarella suffered a rare spinal stroke, leaving him paralyzed during just another ordinary day. Doctors called this a "freak accident," and Muscarella used this saying to dub himself and his friends "Team Freak" when competing in adaptive sports competitions. 
Handcycling, quad rugby, water skiing and snow skiing are some of Muscarella's favorite sports, all playing an integral role in his recovery. 
While accepting the award, Muscarella talked about how important it is for people suffering from a disability to stay active and not let the idea of a challenge act as a roadblock. Muscarella lives out his own advice daily.
After being told he would be paralyzed forever, Muscarella proved doctors wrong. He has regained motion and dexterity in his upper body and is able to walk with the help of machinery. 
Muscarella consistently finishes on the podium in handcycle races throughout the country. In addition to that, Muscarella has even raised over $205,000 to help fund adaptive sports programs.
In 2017, Muscarella was nominated to the Villanova Alumni Board of Directors. As a true member of the Nova Nation, he competes in races wearing the Villanova colors and showing his school spirit. At the award ceremony, other members from the board supported him and his family.
The night concluded with LEVEL member, Nick Gaynor, presenting Muscarella with the award. Gaynor is also paralyzed and spoke highly of Father Bill Atkinson and how much the award means to LEVEL, the Office of Disability Services and Villanova University as a whole. 
Muscarella received a standing ovation.