Countdown to Palooza: Meet Nothing But Treble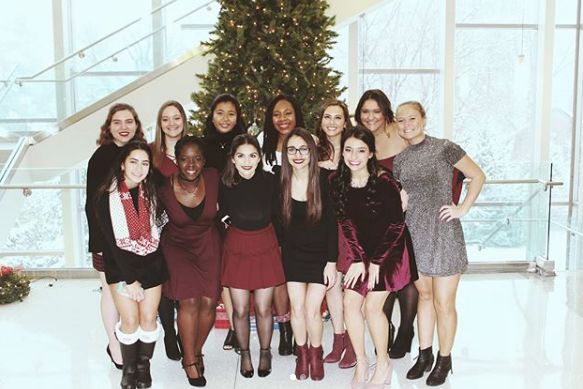 Nothing But Treble is one of three all-female A Cappella groups on campus. It was founded in 2005 and has performed arrangements of songs by artists such as Demi Lovato, HAIM, Ed Sheeran and Beyoncé since then. The group is like one big family that always supports one another, both in and out of rehearsals. As Palooza gets closer, the group has been busy perfecting its setlist, choreography and altogether performance to wow the audience and truly leave it all on the stage.
The group agreed that it is most excited to perform their closer. "It has the most impactful message," sophomore Sophia Bernardi said. 
Looking at their set from last semester, the group agreed that its arrangement for "Red Flag," a song originally recorded by Andra Day was the most difficult to put together and perform, as well as their rendition of Demi Lovato's "Tell Me You Love Me." According to freshman Riley Golden, "The arrangements were very difficult, they were very complex." Arranging for this group is mostly done by one person, who will come in with a majority of the arrangement already done and then ask for input from other members of the group for certain sections during or after rehearsal which makes the process relatively collaborative, according to Bernardi. 
"We switch up who arranges each song so it's not just one person that arranges everything," Bernardi said. Even though "Tell Me You Love Me" and "Red Flag" were deemed the most difficult, Bernardi believes that the most rewarding song the group performed last semester was "Shark In The Water." "We had been talking about doing [that song] for a long time before we actually added it to our set," Bernardi said. "So, it was nice that after wanting to do it for such a long time, it finally worked out with our set."
The group really prides itself on being a family and being incredibly unique. "What makes us unique is that we really don't have a style and we're always down to try something new," junior Alexis Mattone said. "Even within our group, there's a really different genre of voices." 
"Every person's voice in our group is super unique so I think that makes our sound really cool when we're all together because individually we sound different but when we are together we have an amazing blend and we sound like one cohesive voice, even though we're all so different," sophomore Kristina Day said. 
"I think it's just exciting leading up to it because it's the biggest event," Mattone said when asked what the best part about preparing for Palooza is. "Not that the other events aren't, worth it but there is so much hype around Palooza that it makes it really exciting." 
"We work so hard for it so it's really rewarding to have that performance at the end of all the work," Day said. The preparation the group uses for Palooza differs from the preparation for their end of the semester concerts in that the group adds choreography and rehearsals are a lot more intense leading up to Palooza.  
"The week leading up to [Palooza] we have practice every day," Mattone said. "It's just a lot."
"I think we also pay more attention for Palooza to our audiences," senior Maria Roscoe said. "For our concerts, the people that come are mostly other A Cappella groups, other members or our families, so it's a different vibe than the general population of Villanova. We want to try and pick songs that we all know that they'll enjoy."
For this year's Palooza, the group hopes to have a stronger stage presence and expects the audience to be excited for their "girl power" set-list.