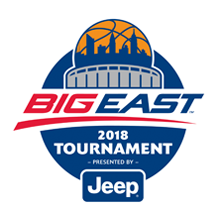 COURTESY OF BIGEAST.COM
In a game that decided who the Wildcats would play in Thursday's Big East Tournament Quarterfinal, the Marquette Golden Eagles defeated DePaul, 72-69.
Although the Golden Eagles found themselves playing in the first round, the team went 9-9 in the Big East and recorded a 10-3 out-of-conference record. Marquette is led by three excellent guards: sophomore Markus Howard, senior Andrew Rowsey and sophomore Sam Hauser. These three spearhead the Golden Eagles' dynamic offense, as they are ranked 3rd, 5th and 15th respectively in the Big East scoring department.
 If these three are not firing on all cylinders, however, the Golden Eagles begin to enter dangerous waters.
 Against the Blue Demons, Rowsey scored 25 points and Hauser tacked on 16 of his own, but Howard never truly got going and finished with only four points. This contributed to a narrow three-point win over the bottom-seeded Blue Demons, a result that could have easily gone the other way if Blue Demons' junior guard, Max Strus, made a shot at the buzzer.
For his part, Howard is confident in returning to form against Villanova and is looking forward to the upcoming matchup.
 "It's on to the next," he said. "No, it was nothing they did. I just couldn't hit shots."
If the Wildcats can find a way to limit Howard, Rowsey, or Hauser's effectiveness, it will be the key to moving on to the semifinals on Friday.
In the earlier game, the St. John's Red Storm advanced with a 99-77 victory against the Georgetown Hoyas.
After starting their Big East slate 0-11, the Johnnies finished 4-3, a stretch that began with an out of conference 81-77 win over Duke and of course, their 79-75 win over the Wildcats. The fuel behind the Johnnies' recent 6-3 overall surge has been the discovery of more consistent secondary scoring behind star sophomore, and All-Big East First Team guard, Shamorie Ponds
Just compare the two times the Johnnies faced off against the Wildcats, plus Wednesday night's game. In the first matchup, which the Wildcats won 78-71, Ponds scored 37 points but was the only member of the Red Storm who scored in double-digits. In the second matchup, which culminated in a Red Storm victory, Ponds scored 26 points, however three of his teammates scored in double-digits and a fourth scored nine points. This trend showed further improvement Wednesday night against the Hoyas, as Ponds again scored 26 points, but with four teammates in double digits and a fifth with seven points.
The Hoyas are not amongst the stronger opponents Ponds and the Johnnies could face this tournament, with the number one seed Xavier Musketeers coming up Thursday afternoon. However, any team with a star like Ponds, and an ability to spread the scoring around multiple sources, has a chance in a weak defensive conference like this year's Big East.