Wildcats Falter in Big East Tournament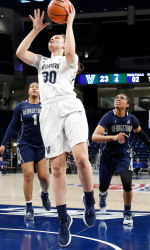 On Sunday, the Villanova Wildcats fell to Georgetown, 63-58, in the quarterfinals of the Big East Tournament.     
Fresh off winning Big East Most Improved Player of the year, Georgetown's Cynthia Petke wasted no time getting things going, scoring the Hoyas first two baskets of the game. In response, Jannah Tucker knocked down two three-pointers as the 'Cats went on a 14-0 run to claim an early advantage. A Dionna White three in the closing seconds of the first quarter finally slowed Villanova's run, bringing the Hoyas to within eight going into the second.
Georgetown rode the hot shooting of White and Petke in the early stages of the second quarter as they used an 11-2 run to cut the deficit to 21-19. Villanova's own award winner, Big East Sixth Woman of the Year Mary Gedaka, got the 'Cats back on track with two vintage post scores and big-time block. As a result, the Wildcats went into half with a 29-23 advantage.
As the second half got underway, it quickly became evident that Petke was on her way to a special night. By the mid-way point in the third, the Hoyas had tied the game at 36 with Petke accounting for 18 of the Hoyas' points. Villanova managed to regain a five-point lead after Adrianna Hahn buried a deep three-pointer. As the game headed into the final act, the Wildcats clung to a 43-42 lead.
Unfortunately, the strong play of Georgetown's Petke, White and Mikayla Venson coupled with an inopportune stretch of cold shooting proved too much for the Wildcats to fend off in the fourth as the Hoyas got the win.
While the loss knocks 'Nova out of the Big East Tournament, an NCAA tournament berth is still in play. The NCAA bracket will be revealed on March 12th.