Villanova Inks Point Guard of the Future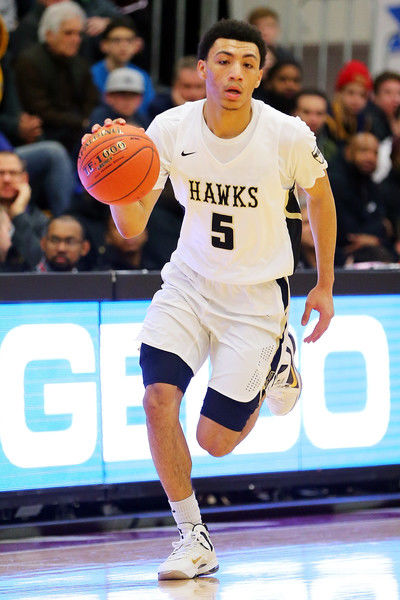 After declaring for the NBA Draft, Jalen Brunson will leave Villanova in May with a degree and a lasting legacy. Brunson, a two-time champion and 2018 National Player of the Year, has been integral for the Wildcats since his freshman year in 2016. Although his presence will surely be missed, Villanova believes they have found his successor. On Wednesday, April 11, five-star point guard Jahvon Quinerly officially signed his national letter of intent with Villanova. 
Quinerly played for Hudson Catholic High School in Jersey City, NJ, where he thrived and gained national recognition for his outstanding play. A four-year starter, Quinerly averaged 18.5 points per game this season along with 5.8 assists per game. Since his sophomore year, he averaged over 15 points per game each season. He was also named a McDonald's All-American in 2018, an honor given to the top high school basketball graduates in the nation. 
Quinerly is eager to join such a successful program, one coming off its second championship in the past three years. 
"I'm really thrilled to finally officially be a part of the culture of Villanova," Quinerly said in an interview with philly.com.
After originally committing to University of Arizona, Quinerly decomitted in February after the program came under investigation for violating NCAA policies. The decommital of Quinerly came as a surprise to many and gave the 'Cats the perfect opportunity to land their point guard of the future. 
Quinerly is excited to be a part of the Villanova system, one that focuses on team oriented basketball. 
"Everyone on the team plays together," Quinerly said in the interview. "You don't see any selfishness on the team, and even the bench players are always into the game, so I'm just excited." 
This system has also been a recipe for success, resulting in Villanova being the winningest program in college basketball over the past four seasons.  
Although eager to get on the court, Quinerly knows that he must prove his worth to his teammates and coaches early on. 
"I'm definitely ready to earn my minutes," Quinerly said in the interview. "I want to show the coaching staff that everything I did at the high school level can translate to the college level." 
Head coach Jay Wright is excited for the addition of Quinerly, whom he believes will have an immediate impact.
"We are proud to have Jahvon join the Villanova family," Wright said in an interview with villanova.com. "He is an outstanding student, talented point guard and accomplished leader. We will count on Jahvon immediately in our lineup. He has all the ingredients of another great Villanova guard."  
Along with recruits Cole Swider and Brandon Slater, Quinerly looks to make his mark on an impressive incoming freshman class. The Wildcats have a perfect balance of experience and youth, with veterans such as Phil Booth, Eric Paschall and Donte DiVincenzo set to return next year. The 'Cats will also look toward the development of Omari Spellman, Collin Gillespie, Dhamir Cosby-Roundtree and Jermaine Samuels, who look forward to their second season in the program. As of now, Villanova looks like an early favorite to win the NCAA Championship— an honor they have become accustomed to.