John Kerry at Villanova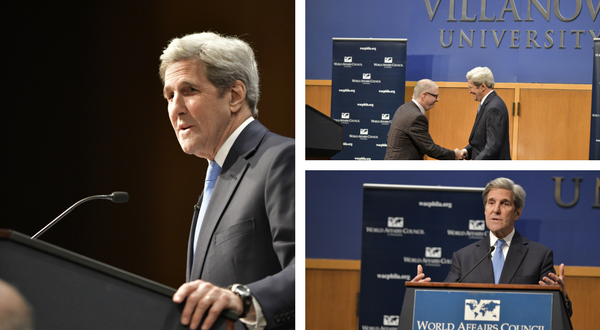 On Mar. 28, 2018, the 68th Secretary of State, former Presidential candidate and previous US Senator from Massachusetts, John Kerry, visited the University. Kerry was hosted by the World Affairs Council of Philadelphia and the Elenore and Robert F. Moran Sr. Center for Global Leadership at Villanova School of Business. 
The event was held in the Villanova Room in the Connelly Center where students, faculty and members of the community filled the room to capacity.
One of the most notable features of Kerry's speech was his stature and seasoned ability to command the room. His six-foot-four frame towered over the podium as he shared his abundance of knowledge and insight from a long career with the room. He also shared a number of personal anecdotes such as his visit to Antarctica and its impact on his understanding of the environment—a policy area on which he has focused. During Kerry's term as Secretary of State, he helped construct the Paris Climate Accord. 
Overall, Kerry's discussion focused on the future of US diplomacy and leadership. Kerry emphasized the importance of leadership to the audience at the University and members of the larger community. In addition to this, Kerry stressed the importance of trusting the US government as a whole. "Restoring trust in our government will make the government work toward making lives better for everyone," Kerry said.
Kerry spoke at lengths about how the inner political turmoil and controversies that the Trump administration has faced is troubling for a number of reasons. Specifically, Kerry emphasized that the rest of the world is not waiting for the United States to figure out its own domestic politics. Furthermore, he criticized the notion that putting America first is a productive strategy. "America first," according to Kerry, "is America alone."
Nonetheless, Kerry offered words of encouragment to the audience and how maintaining hope is critical. "Things always seem impossible until they are done," said Kerry. 
Ultimately, Kerry's forecast for the future served as a cautionary tale for the current political leadership of whom citizens must hold accountable.
The end of Kerry's speech was met with thunderous applause and a brief question and answer segment. 
"We were honored to host The World Affairs Council, The Honorable John Kerry and hundreds of members of the Villanova community here at Villanova," said Jonathan Doh, PhD, Herbert G. Rammrath Endowed Chair in International Business, Associate Dean of Research, and Faculty Director, VSB's Moran Center for Global Leadership. 
"At Villanova, we believe it is critical to facilitate lively discussion about issues that impact our country and our world, and we are fortunate to hear Kerry's perspective on these matters."