Volleyball Outlasts St. John's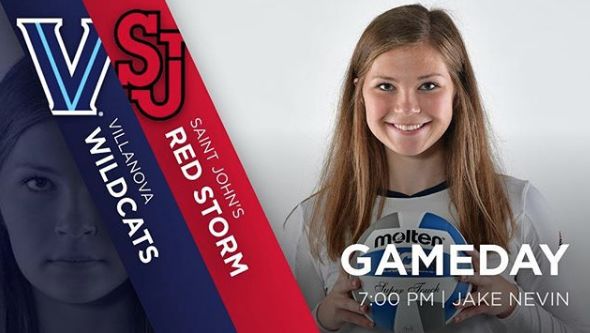 The Wildcat's Volleyball team battled St John's Red Storm tonight in a riveting back-and-forth match that ended with Villanova coming out on top 3-2.
The Wildcats took five sets to win in a back-and-forth contest. Villanova entered today's competition 8-6 after a close defeat to the Georgetown Hoyas in their most recent match. The Red Storm also lost to the Hoyas but have since regained momentum. They entered tonight's match on a 2-game winning streak after a 5-set win against Butler, making them 13-5 for the season. The battle started with the Red Storm eager to keep their streak alive and the Wildcats hungry to break it.
The Wildcats dominated for the majority of the first set, never giving up their lead despite St. John's best efforts. The 'Cats faltered slightly as they attempted to wrap it up, as St. John's managed to close the gap to 24-23 before the Cats nailed home the final point and claimed the first set of the night. The next set proved to be more of a challenge for Villanova as St. John's fought to keep it close. The Red Storm thundered out of the gates in set two, claiming 4 of the first 5 points. Villanova was quick to kill this momentum and took back the lead. However, their command of the scoreboard was short lived as St. John's took the second set 26-24. Villanova maintained a comfortable lead for a majority of the third set, eventually winning 25-22. The momentum swung back to favor St. John's throughout the fourth, even with a late 3-0 run from the Cats to make the score 17-21. St. John's grabbed the fourth set 25-21to take the match to a fifth set. Villanova scored the opening point of the fifth set and managed to maintain a lead down the stretch. A late timeout by the Wildcats helped make the momentum last as freshman Claire Delaplane finished off the set, and the match, with an ace. The final set ended 15-12, giving Villanova the 3-2 victory.
The Wildcats take on DePaul on Friday in Chicago.