St. Thomas Gospel Choir Wows at University Concert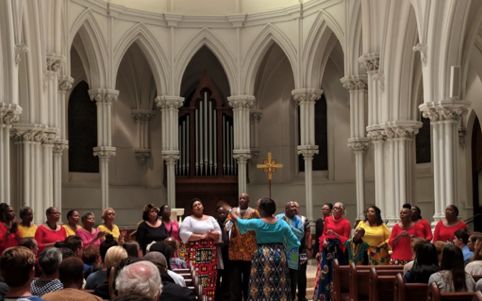 Danniela Estrada Staff Writer
October 9, 2018
On Saturday Sept. 29, Villanova had the honor of hosting the St. Thomas Gospel Choir. This group filled the St. Thomas of Villanova Church with high—energy song and prayer. This inspirational group was humbled to be invited to perform as a part of the ACS music series, and it attracted students of all ages, professors and parishioners from the surrounding community. 
The St. Thomas Gospel Choir is nationally recognized and recently completed a tour in Italy. During this tour, it was able to perform at the Vatican, and members say the experience has greatly humbled them. They perform not for the attention, but in order to build community and to spread the music of God. The choir is made up of members young and old, from all different backgrounds and with all different goals. They are united through a passion for song and a love for God. They wanted to spread this idea of community throughout their performances. 
Once they started to sing, a hush seemed to cover the church and campus itself. The doors of the church were opened, and many stopped in during the performance to see what was happening. The songs of love, resurrection and hope could be heard all the way down the bridge to South Campus. It was truly inspiring to hear the voices of the performers carry so elloquantly throughout the church. The ceiling seemed to vibrate as the church overfilled with the harmonic love and word of God.
In addition to delivering a show stopping concert, the choir was able to connect with the audience. Before a new song, members would take the time to talk with the audience, and speak to the group as if they were communicating with old friends. This presents the idea that they were truly curious about the Villanova community. They wanted to take the time to grow close to the audience, to understand who they were preforming for. 
It was an incredible experience to hear some of my favorite church songs being elevated to another level. T I encourage students to be on the lookout for other ACS concert series information that will be released later this semester. These experiences help one grow culturally and socially. If interested, the St. Thomas Gospel Choir has several albums on Spotify, ranging from jazzy psalms to upbeat worship songs. Either way, the velvet voices and rich harmonies will make anyone fall in love with this community of musicians.