New Music Corner: Vampire Weekend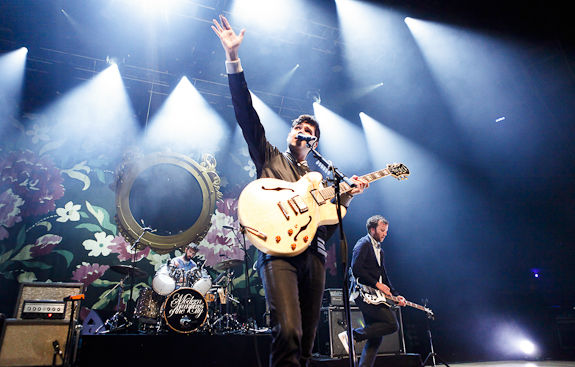 Ryan Weicht Staff Writer
February 5, 2019
Despite the bitter cold, last week was time for rejoicing, due to Vampire Weekend releasing its first music in six years. Following months of mysterious teasing, frontman Ezra Koenig announced the band's forthcoming album on Instagram, as well as three double-song drops in the months preceding it. The first two of these singles were "Harmony Hall" and "2021," released on January 24th. Both songs have been received well by the fan base and are strong first showings for the album. The band has since announced the name of the 18-track album, "Father of the Bride," and North American tour dates— including a Philadelphia show on September 4th. The album will be Vampire Weekend's fourth, following "Vampire Weekend" (2008), "Contra" (2010) and "Modern Vampires of the City" (2013).
'Harmony Hall' is the longer and more popular of the two singles. It is marked with a repetitive, soothing guitar riff that alternates with an upbeat piano. The resulting sound is reminiscent of spring, with an echoey, deep grandeur that matches a bouncing jazz sensation. Eloquent and flowery lyricism matches the quality of previous the band's previous albums. The song is marked with memorable refrains that harken back to previous works, as Koenig sings, "I don't wanna live like this / but I don't wanna die."
'2021' is a much shorter and more pensive tune. The song looks to the future, speaking of future years in its lyrics. A bright aura, consistent with that of Harmony Hall, is maintained through a youthful instrumental. However, the song's slow, beating tempo produces a much different mood. The tune doesn't bounce joyously, but it's thoughtful and intriguing melody makes it still worth a listen.
The music community responded to the songs with positive feedback. 'Harmony Hall' is "filled with…sunlit energy," Pitchfork said. The Edge calls '2021' "entrancing." YouTube reviewer Anthony Fantano said that the releases provided listeners hope for a "thicker, more luscious, more instrumentally deep, and more mature" record. There was much speculation about what Vampire Weekend's sound would be like following the 2014 departure of instrumentalist Rostam Batmanglij. While most agree that the recordings are a divergence from the band's previous aesthetic, this new direction seems to be positive. Fans will eagerly await Father of the Bride with excitement as singles continue to come in the following months.