Fall in Philly: What to Explore On The Weekends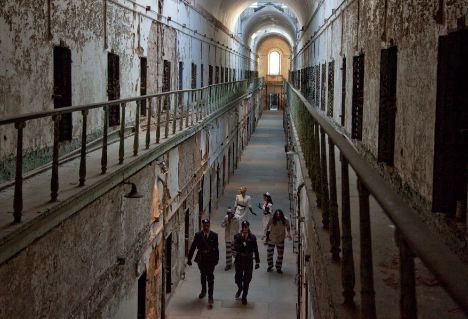 With fall in full swing, Philadelphia offers an array of activities for students to ring in the season. Whether you're a freshman or a senior, there are events for everyone to bond with friends or take a study break before the weather gets too cold. Let's explore activities, from haunted houses to sporting events, to make the most of Fall in this great city.
Philly is home to various harvest festivals and events. Linvilla Orchards, located only 30 minutes outside the city, is a 300-acre farm that is a favorite among Villanovans. Students can go pumpkin or apple-picking through November and visit the Linvilla café afterward to munch on cider donuts. A farmer's market is available to shop for fresh produce and signature pies. The orchard also offers brunch on the weekends, as well as a beer garden with handcrafted ales and games like cornhole. Check the calendar for updates on events and you-pick dates. 
As a day trip, students can visit Peddler's Village in New Hope, PA. An hour away from Villanova, Peddler's Village will be hosting its 46th Annual Apple Festival from Saturday, November 2nd to Sunday, November 3rd. Visitors can indulge on apple treats, including apple butter, cider, dumplings and fritters, as well as take part in pie-eating contests. Live music and village shops will entertain visitors while they are chowing down. The event is also budget-friendly, as admission and parking spaces are free and attractions and food are pay-as-you-go.
For a spookier experience, students can venture to Terror Behind the Walls at Eastern State Penitentiary. Voted #1 in the country by Forbes, Terror Behind the Walls is the nation's largest haunted house within a real prison. Tickets grant visitors access to six main attractions, including a quarantine site with 4D effects to provide a lively, sensory experience. Student ticket pricing is available on Sunday evenings through November 3rd. Purchase tickets online in advance to save money and secure your spot before the event sells out.
Fall is not only the season of pumpkin spice and colorful leaves. It is also the season of sports. Basketball and football have officially begun on collegiate and professional levels. When they are not cheering on our Wildcats, Villanovans can attend NBA games in the Wells Fargo Center. The 76ers host "Spirit of '76" nights in which they highlight the history of both Philadelphia and the team. Players even wear City Edition uniforms to pay tribute to the city they proudly represent. Watch as they compete against the Miami Heat or Cleveland Cavaliers on these special event nights.
Students can also venture to the Lincoln Financial Field to watch a football game. On Saturday, Dec. 14, the Army vs Navy game will draw in a massive crowd as the historic rivalry returns to Philly. There will be various activities at the stadium, including tailgates, pep rallies and city-wide physical activities, that will make gameday an exciting event. Support these student-athletes and young servicemen as they compete in a game loaded with tradition.
Halloween and Thanksgiving are at the forefront of Fall, but it's never too early to celebrate Christmas. The Dilworth Park Wintergarden opens on November 8th in Center City. Visitors can skate at the Rothman Ice Rink and huddle in the Rothman Cabin afterward for food and hot chocolate. The Philly Holiday Market next door will have Christmas trees and feature work from local artisans, designers and crafters. Stop by the market for Christmas gift shopping and special holiday foods before the semester ends.
From holiday celebrations to iconic sport rivalries, there are countless opportunities in Philly for every personality. Make sure to take advantage of the University's proximity to the city this Fall to make the most of your college experience.