Villanova Gospel Choir Spreads Joy and Song Across Campus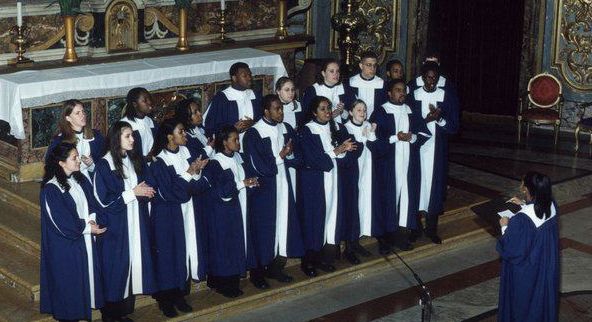 Since it was revitalized by Naomi Washington-Leapheart, the Villanova Gospel Choir brings together singers from different ethnic backgrounds and singing experience to celebrate the spiritual traditions of Gospel music. The choir performs a wide range of gospel numbers, from inspirational melodies to gospel songs with elements of pop music, spreading the "Good News" to an ever more broader audience. Last Thursday, I had the pleasure of being a part of choir rehearsal and interviewing the choir director Washington, as well as the choir members.
Calista Huang: Can you tell us more about the history of the choir? I learned that there was a hiatus in the past. How did you decide to start the choir back up again?
Naomi Washington-Leapheart: So my understanding was that the choir was here for 15, 20 years, maybe not that long, but 15 good years under the direction of a woman who was not directly part of the Villanova community but was committed to bringing gospel music to campus. The choir travelled internationally. They were part of the music activities groups. And she retired from that role, and so I think that was maybe 2014, I'm not quite clear on when the last concert was hosted here by the choir. But there was a period of time when there was no choir, and the students who were involved in the choir had graduated. And Rev. Julie, who is with Campus Ministry approached me about revitalizing the choir. I was the director of my college gospel choir and had been a ministry of music at a church, and so I was very interested in helping to take a lead on that. And so, we partnered together with campus ministry to have an interest meeting in September of this year at the beginning of this semester, and 12 or 13 people came to the interest meeting, and those folks are still hanging out with us today. And so we haven't been rehearsed for that long and haven't been singing together for that long, but there is a connection back there. People come in there, and they have joy, and they are interested in working hard at our rehearsal after they have class and whatever all day. I'm just really grateful that these students continue to show up, and we have a couple of engagements now. We've sung on campus. We're scheduled to sing tomorrow night, and we have concerts next semester, and so we're moving right along. We're right in line with the tradition of the formal choir, that was such a vibrant part of campus.
CH: I noticed that there's no music sheets for the piano accompaniment. How then do the pieces come together? And how do the members learn a new tune?
NWL: Gospel choirs can sing both by ear, I mean, I teach the notes, the parts and then they put them up. And we can sing via sheet music. I think that as we prepare for our concert, I'll bring in some sheet music. But part of the gospel tradition is to, I think, learn music in a variety of ways. Not everybody reads music, so this allows for a bunch of people to participate, because they don't have to feel like they have to be a musician. They just have to have excitement and they need to be able to blend and hold on their parts. What's happened in the past is that I have taught songs that I bring to the choir that are part of the gospel music in the world. They are asked to make some suggestions that they have a list of songs that they want to sing. So we'll bring some of those in too. Some pieces are more challenging than others, some pieces are more sombre, other pieces are lively and have clapping, and so I think we would be able to sing music across that spectrum. 
CH: Finally, what is your vision for the choir? What are some of the future engagements for the choir?
NWL: First of all, I want to make sure that we become a fixture on campus, so people know Villanova has a gospel choir, and they're having an event on campus, they can have the Villanova Gospel Choir to sing. I'm really excited that words are already getting out. We're singing for the sorority event tomorrow. We're going to sing for MLK Day of Service in January. We're going to sing for Black History Month in February. So I want for the Villanova community to embrace the gospel choir as one of its own groups. I hope we can get off campus and sing at some local congregations as well. I think we can do service together too, as a choir, so we can figure out how we can bring our music to people who want to hear, who maybe can't get to us. So that's the vision: just to celebrate the gospel music tradition on Villanova's campus. And to bring the Villanova spirit of service to the broader community.
During the break, Naomi invited me to talk to the choir members. Their love and passion for the choir and the messages it brings to the audience are vividly expressed in our conversation. 
"Gospel music is like my outlet, bringing me back to ground zero if I go up to one hundred," Nia, a member of the choir and a Sophomore in VSB said. 
"Gospel choir to me is another form of home, because where I come from I pretty much grew up in a Christian environment, and being away from that you tend to lose focus of, I think, the religious aspect in your life. But being in Gospel choir kind of keeps you in touch with that and helps you build your faith in a way," replied another member of the choir.
Being in the Gospel Choir, the members all have their own understanding of the pieces they've sung. Emma said her favorite number is their warm up "How Great is Our God," because "there's something so powerful about just singing a simple phrase and reminding yourself of that truth, and for me that has been my favorite bit that just coming back to ground zero and a place of peace and be like reminding yourself why you're here, and what I'm singing about." 
As the director of the choir, Washington-Leapheart introduced her favorite piece "Hang On In There." "When all hope is lost, when I have no songs to sing, when my back is against the wall. It is an act of deep faith to just hang on," she said. "Even when you don't know what to say or what to do, how it's going to turn out, I'm not letting go, I must hang on. And so I really love that song and the challenge of what you're going to do when your back is against the wall. And that artist's version ends with God is able, and that alone is a statement of confidence."
The rehearsal ended with "Hang On In There." The choir is more than a place for the members to regain the gravity of their lives at the end of a busy week, but it is also in itself the reassurance that there's still something to hold on to no matter how crazy life can be. What could be a better representation of the Villanova spirit of service than bringing the Gospel music and Veritas, Unitas, and Caritas to a broader community?